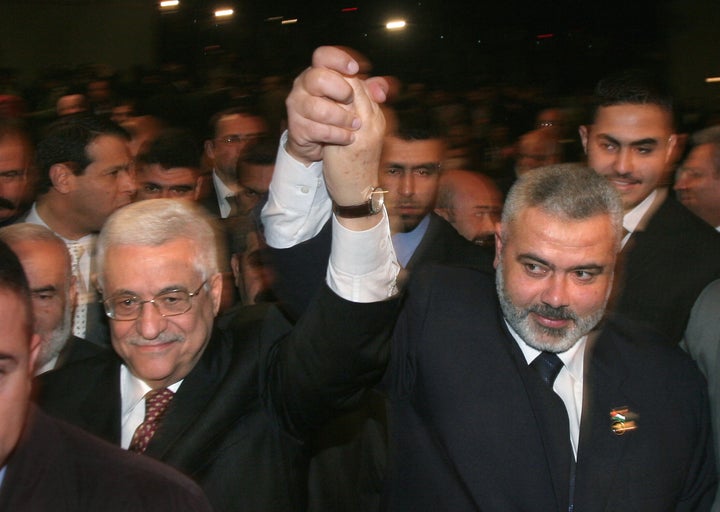 WASHINGTON -- The Palestine Liberation Organization's envoy here said critics misunderstand an announced deal to mend the schism between rival factions. The PLO was reacting to calls in Congress to cut off aid to the Palestinian state following the agreement.
"We are concerned about maintaining a good relationship with the United States," said Maen Rashid Areikat, chief representative of the PLO Mission in Washington, in an interview with The Huffington Post. He said the reaction from some members of Congress was premature.
"We need to use caution and not jump to conclusions," Areikat said. "I don't think it's helpful, this kind of rhetoric."
House Foreign Affairs Chair Ileana Ros-Lehtinen (R-Fla.) released a statement saying "such a hybrid government cannot be a recipient of U.S. taxpayer funds," Salon reported.
The surprise deal -- announced Wednesday in Cairo -- would end the four-year political split between Hamas-run Gaza and the Fatah-run West Bank territories. But Areikat said the deal was not aimed at recreating the same type of national unity government that emerged after the 2006 Palestinian election. That is a "misperception," he said.
Details of the Egypt-brokered deal remain to be ironed out before a scheduled signing next week. Areikat said the parties want to form a "caretaker government of independents and technocrats, enjoying the support of the various political factions."
The interim government, he said, would be composed of all Palestinian factions, with no one faction having veto power over cabinet members. If all goes as planned, the interim government would be replaced after a May 2012 general election in both Gaza and the West Bank.
Israel's ambassador to the United States said he is skeptical of the deal, however.
"We are not going to be deceived by any technocratic facade," Amb. Michael Oren told HuffPost. "It will be, in fact, Hamas involvement in the West Bank, and we will no longer be dealing with the [Palestinian Authority] as we have known it. It will be a hybrid."
Following the deal's announcement, Israeli Prime Minister Benjamin Netanyahu warned the Palestinian Authority that it had to "choose between peace with Israel and peace with Hamas," in order to continue negotiations with Israel, Reuters reported.
Netanyahu is scheduled to address the U.S. Congress next month and was expected to unveil a new initiative to jumpstart the stalled peace process. Now, his message will need to be recalibrated, Oren said.
The Cairo agreement "is going to have a significantly negative impact on the peace process," he said.
The Hamas-Fatah deal "makes a dead peace process even deader," said Aaron David Miller, a former U.S. Middle East negotiator who served under six secretaries of state. Even if a new interim government linking Gaza and the West Bank was run by apolitical technocrats, Miller said, "this shows more than anything that the Palestinians have hung a 'closed for the season' sign on negotiations."
But Hanan Ashrawi, the long-time member of the Palestinian Legislative Council, said in a statement that the deal was a welcome development. "The division between Fatah and Hamas has been enormously destructive and self-defeating for Palestinians," Ashrawi said.
Ashrawi accused Israel of looking for excuses to avoid returning to peace talks.
"Previously, the Israeli government claimed that it did not have a partner for peace because Palestinians were divided," she said. "Now, with Palestinians on the verge of achieving national unity, the same government is saying that President Abbas must choose between peace with Israel or peace with Hamas, but that he cannot have both.
"Hamas is part of the Palestinian political landscape and part of a Palestinian pluralistic and inclusive democracy," Ashrawi added.
The White House has said it welcomes Palestinian reconciliation "on terms which promote the cause of peace." But National Security Council spokesman Tommy Vietor added a caveat, restating the U.S. view that Hamas is "a terrorist organization which targets civilians."
Vietor said that in order to "play a constructive role in achieving peace, any Palestinian government must accept the Quartet principles and renounce violence, abide by past agreements, and recognize Israel's right to exist."
Hamas has not changed its stance on Israel but said after the deal was unveiled that its views on the Jewish state are irrelevant since it sees the interim government as an internal affair affecting only Palestinians.
Rep. Gary Ackerman (D-N.Y.), the top Democrat on the House Subcommittee on the Middle East and South Asia, Rep. Nita Lowey (D-N.Y.), the highest ranking Democrat on the House foreign aid subcommittee and Sen. Mark Kirk (R-Ill.) backed Ros-Lehtinen, saying they would move to cut off financial support for the Palestinian Authority. U.S. aid to the Palestinian territories totaled $587 million in 2010. The Obama administration has requested more than $550 million in economic and security aid for fiscal year 2012, a package that may now be in peril.
Some who describe Hamas as a terrorist group have argued that aid to the broader Palestinian governing body should be withheld, given U.S. laws that forbid the funding of governments that include terrorists. But a State Department official who is not authorized to discuss the matter on the record said, "There is no change to the assistance program. The status quo is the status quo."
A European diplomat in Washington said Quartet countries that also have poured large sums of money into the West Bank are concerned that Palestinian Prime Minister Salam Fayyad might be pushed out. Hamas leaders have called for Fayyad's removal under the deal. The diplomat called the agreement "extremely ambitious" and raised doubts about whether secular Fatah and Islamist Hamas could get along when past attempts have failed.
Palestinian President Mahmoud Abbas has made it no secret that he is frustrated with the Obama administration's slow-footed efforts to bring the parties back to negotiations and its inability to stop Israel from building more settlements in the West Bank. In addition to reconciling with Hamas, he intends to seek a United Nations resolution in September recognizing Palestinian statehood.
REAL LIFE. REAL NEWS. REAL VOICES.
Help us tell more of the stories that matter from voices that too often remain unheard.