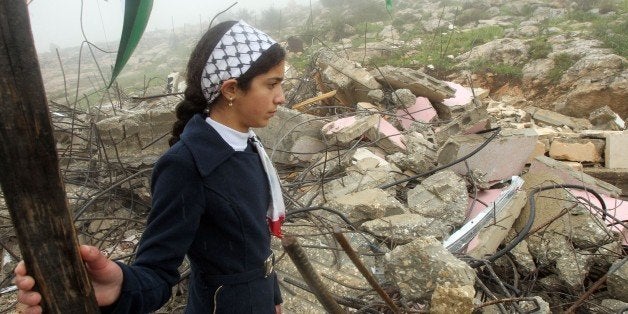 Noga Kadman is a licensed Israeli tour guide. She is also the author of a book, based on her masters thesis, that tells us about each and every one of the 418 Palestinian villages depopulated in 1948 in order to make Israel a Jewish country.
The book is no ordinary tour. Originally published in Hebrew in 2008, it provides a systematic and detailed overview of how Israel's ongoing campaign of Judaization has played out in the depopulated villages. Happily, this important book is now available in English translation from Indiana University Press under the title Erased from Space and Consciousness: Israel and the Depopulated Palestinian Villages of 1948.
In identifying villages to be studied, Kadman used the list of 418 from Walid Khalidi's All That Remains: The Palestinian Villages Occupied and Depopulated by Israel in 1948. Following Khalidi's lead, she does not address related depopulations of Bedouin communities in the south and Arab neighborhoods in cities.
Kadman begins with an overview of the "depopulation, demolition, and repopulation of the village sites." She quotes David Ben-Gurion, Israel's first Prime Minister, who said in 1948: "The Arabs of the land of Israel have only one function left--to run away."
And run they did, expelled by Jewish authorities, attacked by Jewish militias, or terrorized by military attacks in nearby villages and reports of massacres, which were often accurate. In four cases, villagers were told to leave by Arab authorities. In most, they left in panic under Jewish pressure (see Appendix A, Table 2).
In all cases, Israel forbid them to return, claimed all their land and property for the benefit of Jews, and refused compensation of any sort. Many of the beneficiaries were Holocaust survivors. Israel's need to place and support Jewish refugees of the Holocaust was central to the process of expropriation that created the Palestinian refugees of 1948. Kadman reports:
Three hundred fifty out of the 370 new communities established across the country between 1948 and 1953 were set up on refugee land, and in 1954 more than a third of Israel's Jewish population was living on land belonging to refugees, whose return no one intended to allow.
Kadman's central concern is with the subsequent erasure of the Palestinian villages from space and consciousness. She quotes a 1949 statement from Prime Minister David Ben-Gurion, whose commitment to Judaization extended to Hebraizing all names : "We must remove the Arabic names due to political considerations: Just as we do not recognize the political ownership of Arabs over the land, we do not recognize their spiritual ownership and their names."
One of the main players is the Jewish National Fund.
Beyond its roles in demonstrating Jewish presence and creating Jewish memory, the forestation project of the JNF has been used for covering the remains of destroyed Palestinian villages and therefore as a way of deliberately casting them into oblivion. Michal Katorza, a JNF official who is responsible for putting signs in JNF parks, has stated explicitly, "In fact, a large portion of JNF parks are on lands where Palestinian villages used to stand, and the forests are intended to camouflage this."
The JNF stands out as a nongovernmental organization with the stated mission of preserving and developing the land of the country for the benefit of the Jewish people, rather than for the sake of all Israeli citizens. Israel has vested the JNF with the authority to do so, thus regarding the JNF as a central instrument of Judaization. Indeed the JNF took part in many of the erasure activities described in this book: demolition of villages, planting forests over their remains, establishing Jewish communities on refugee land, Judaizing place names, and marginalizing the villages in the information it provides about the sites that contain their remains today.

Kadman also conducted a systematic analysis of kibbutz and moshav publications and websites to address the attitudes of Jewish communities living on or near the site of a depopulated Arab village. In most cases she found general awareness that the village was Arab before 1948 but no mention of why the Arabs left, where they went, or where their families are now. The villages are deemed "abandoned." The Palestinians are erased from space and consciousness.
By the end of the tour it is clear our guide has no intention of predicting or directing what happens now. But she has certainly established that any serious discussion of the future must acknowledge the depopulation of 1948 and counter the ongoing policies and practices of erasure and forgetting. If we don't know what happened, we can't understand what is happening now or figure out what to do next.
Related
Popular in the Community