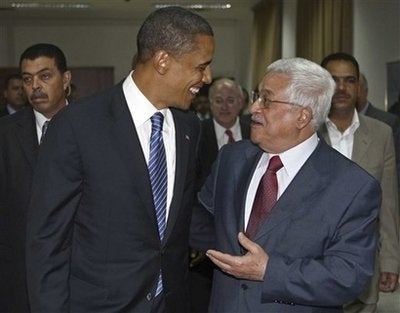 Today the candidate met with the Palestinian President Mahmoud Abbas Prime Minister Salam Fayyad. Afterward, a reporter says the Palestinian National Authority was conciliatory:

Palestinian negotiator Saeb Erekat told reporters at the end of the meeting that Obama has assured President Abbas that he will get involved in the Mideast conflict quickly, if elected U.S. president.

...

"President Abbas welcomes this important visit and considers it evidence of the importance of the Palestinian issue in American foreign policy," he said, adding "Obama told Abbas he would not waste a minute if elected."

...

Obama caused outrage among the Palestinians in early June when he told a major US pro-Israel lobbying group that Jerusalem must remain the "undivided" capital of Jerusalem.

The international community including the U.S. does not recognize the city as the eternal capital of the Jewish state. Israel claims that Arab east Jerusalem, which was annexed in the 1967, is part of the undivided city.

Obama however, corrected his statements and said that the future of the city can be resolved through peace negotiations between Israel and the Palestinians. The Palestinians want the eastern part of the city as the capital of their state.
Popular in the Community