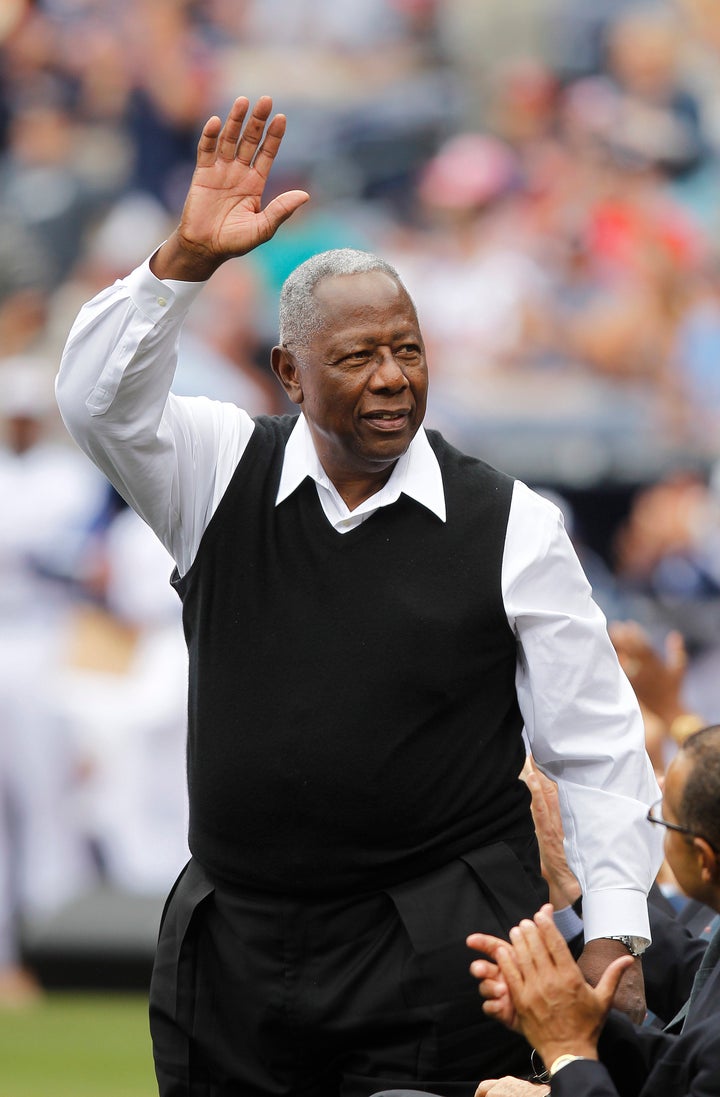 There were two TV programs I never missed once my father relented and let us have a television set: Miss America and the Academy Awards. I wanted to grow up to be Miss America (didn't every girl growing up in the 50s in the South?) and I wanted to walk the red carpet at the Oscar ceremony. Competing for the Miss America crown was soon replaced by more obtainable goals: getting out of the South, making a living, making a difference. And the Academy Awards? Well, that dream actually did come true... once.
It was 1995 and I was heading up the documentary division of Turner Broadcasting. One of the docs that I commissioned and executive produced was nominated for an Oscar: Chasing the Dream: the Hank Aaron Story. Not only did I get an invitation, along with the film's directors, but I also got to attend with the baseball legend himself and his wife. As you might imagine, especially those reading this old enough to remember this legendary slugger in action, Hank was the biggest star that year at the ceremony. Forget Warren Beatty or Robert Redford or Clint Eastwood... from the minute Hank Aaron stepped onto the red carpet, he was besieged with requests for autographs and pictures. By the time we sat in our seats (in the nosebleed section, because that's where documentary nominees often end up!) the show was already starting. Clearly, the person who arranged the seats didn't realize that we were bringing Hammerin' Hank, himself, to the Oscars.
You can't leave the auditorium during the taping of the Oscars unless you agree to stay outside until the next commercial break, so when Hank decided he has to go, I tried to explain that he wouldn't be able to get back in and our award was coming up. He leaned over and whispered in my ear: "I'll be back, because I know we're going to win."
"No," I said quickly, trying to give him realistic expectations. "We're not going to win, Hank. We are up against a Holocaust documentary and that subject always wins!"
"Not this time," said Hank confidently.
"How do you know?" I asked him.
"Because I said my lucky prayer—the one that I say before going up to bat," he whispered back.
I couldn't help smiling knowing he believed that. I wanted to too, but my gut told me something different. Sure enough, the award nominations in our category were read and Hank wasn't back, and, well, as I predicted, we lost out to the Holocaust doc. When he gracefully slid back into his seat, I could tell he was a little shaken, but not for long. When you're the Home Run King, there are plenty of people to remind you that you're the greatest. Commercial breaks were filled with well wishes and pats on the back. Hank was just fine.
I won't be walking the red carpet in L.A. this year, but one in New York at our very own Paley Center instead. We have a fantastic line up of events for this year's big cinematic celebration:
On Thursday, February 16th, the nominees for Documentary Short spoke about how they got their film produced and eventually in the running for the ultimate award. The panelists included nominated filmmakers Julie Anderson (God Is the Bigger Elvis); Kira Christensen and Lucy Walker (The Tsunami and the Cherry Blossom); Daniel Junge (Saving Face, via Skype); and James Spione (Incident in the New Baghdad).
Then on Saturday, February 25th and Sunday February 26th, the Paley Center and the International Documentary Association (IDA) will present DocuDay, two days of screenings of the documentaries, features and short subjects, which are nominated for the 84th Annual Academy Awards.
Finally, on Sunday evening, we will be hosting a viewing party for the 84th Academy Awards. The New York Times will originate its live video coverage from the Paley Center, with chief film critic A.O. Scott and Media Equation columnist David Carr offering analysis and engaging with the audience in the Bennack Theater during the commercial breaks. There will be an Academy Award poll with prizes, food and drink, and all the fashion triumphs and disasters on a theater-sized screen in HD.
So join us. We can't promise Hank Aaron, but we can promise a home run of a good time.
REAL LIFE. REAL NEWS. REAL VOICES.
Help us tell more of the stories that matter from voices that too often remain unheard.