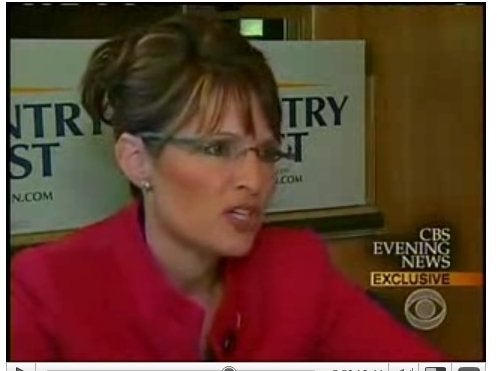 Sarah Palin said she does not support the morning after pill as a form of contraception, strongly implied that homosexuality was a choice, and could not name a single source of news that she turns to for information, in yet another installment of her interview series with Katie Couric.
Appearing on CBS Evening News, the Alaska Governor seemed calmer than she had been in previous sit downs. But while she only occasionally provided the type of befuddled responses that had even conservatives scratching their heads, her interview was nevertheless shaky.
Asked what newspapers and magazines she reads, Palin - a journalism major in college - could not name one publication.
"I've read most of them, again with a great appreciation for the press, for the media," she said at first. Couric responded, "What, specifically?"
"Um, all of them, any of them that have been in front of me all these years."
"I have a vast variety of source where we get our news," Palin said. "Alaska isn't a foreign country, where it's kind of suggested, 'wow, how could you keep in touch with what the rest of Washington, D.C., may be thinking when you live up there in Alaska?' Believe me, Alaska is like a microcosm of America."
Watch the full Palin interview:

Later, when pressed on a variety of cultural issues, Palin provided red meat for religious conservatives. But her answers seemed to fall on the far edge of mainstream political thought. She said she was "unapologetically" pro-life when asked if she opposed abortion even for a 15-year-old raped by her father.
"[I would] counsel that person to choose life despite the horrific, horrific circumstances," she said, before moderating her position a bit: "If you're asking, though, kind of foundationally here, should anyone end up in jail for having an ... abortion, absolutely not. That's nothing I would ever support."
Asked whether she believed that the morning after pill should be outlawed, Palin did not directly address the question, saying only: "Personally, and this isn't a McCain-Palin policy, I would not choose to participate in that kind of contraception."
And quizzed about her position on gay-rights, Palin cited a homosexual friend whom she is close with before noting that she "made a choice" about her sexuality.
"I have," she said, "one of my absolute best friends for the last 30 years who happens to be gay and I love her dearly. And she is not my gay friend. She is one of my best friends who happens to have made a choice that isn't a choice that I would have made."
These positions may, in the long run, endear Palin even more to her conservative following. But combined with her failure to name a source of news she turns to, they are also bound to have people buzzing up through Thursday night's vice presidential debate.
Support HuffPost
The Stakes Have Never Been Higher
Popular in the Community