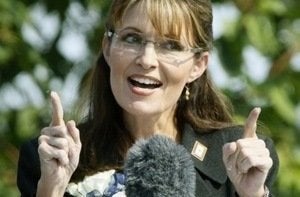 Sarah Palin may have managed to drastically alter the course of upstate New York's special congressional election with a comment on her Facebook page. But despite catapulting the Conservative Party's Doug Hoffman to a likely victory in Tuesday's election, the former Alaska Governor is, herself, relatively unpopular in the state's 23rd district.
According to Public Policy Polling, 44 percent of voters in NY-23 said they had a negative view of the 2008 Republican vice presidential nominee. That's one percentage point higher than those who viewed her favorably. Isolating just Republicans in the district, the numbers are better, but not overwhelmingly so. Fifty-three percent of Republican voters said they had a positive view of Palin while 32 percent said their view was negative.
The conventional wisdom was that Palin's endorsement of Hoffman gave his candidacy a tremendous boost forward -- so much so that the Republican Party's Dede Scozzafava was forced to drop her bid just days before voters went to the polls. But perhaps the power of that specific endorsement was a bit overstated.
More important, however, is what these numbers portend for future elections. NY-23 is a decidedly Republican district, with the GOP enjoying a 14-percentage point advantage in voter ID, according to Public Policy Polling. That Palin is just breaking even in one of the "reddest" areas of the northeast shows the current limitations of her political reach.
As PPP concludes: "She could overcome those kinds of numbers in a contest to get the Republican nomination but they certainly wouldn't be good enough in a general election. The North Country should be friendly ground for her and if she can't make it there it's hard to see how she can make it anywhere."

Calling all HuffPost superfans!
Sign up for membership to become a founding member and help shape HuffPost's next chapter