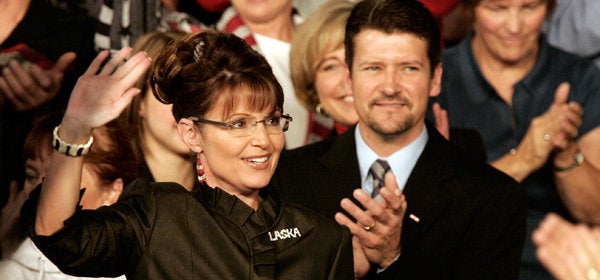 Can Gov. Sarah Palin legally keep e-mails between her husband and her administration from being released to the public?

That's the question the lawyer of Andree McLeod, a self-described Republican watchdog, put to the governor last week in an appeal to disclose e-mails between her administration and her husband, Todd.

Those e-mails could shed light on how Gov. Palin, the Republican vice-presidential candidate, runs the state. And they could also help reveal what role Todd Palin, who the state Legislature's special investigator called a "central figure" in the governor's firing of former Public Safety Commissioner Walt Monegan, played in his wife's administration.

...

In redacting or denying the request for e-mails, the governor's office mostly cited Gov. Palin's right to a "deliberative process privilege," a law designed to let public officials receive candid advice from their staff and consultants regarding matters of the state without fear of that advice going public.

But McLeod's lawyer, Donald Mitchell, said Gov. Palin waived that privilege when Todd Palin was included in her staff's e-mails. Documents released to one member of the public have to be available to all members of the public, he said.
The Anchorage Daily News delves into how Palin uses a private email account (and two BlackBerrys) to keep some work emails private.
Moments after Gov. Sarah Palin's first speech as Republican John McCain's running mate, she sat with her kids backstage, thumbing one of the two BlackBerrys that are always with her. You can see them in photographs from that day on the campaign blog of one of McCain's daughters.

The tech-savvy governor has one of the devices (which allow users to read and send e-mails) for state business, another for personal matters, but those worlds intertwine.

Palin routinely uses a private Yahoo e-mail account to conduct state business. Others in the governor's office sometimes use personal e-mail accounts too.

The practice raises questions about backdoor secrecy in an administration that vowed during the 2006 campaign to be "open and transparent."
Popular in the Community