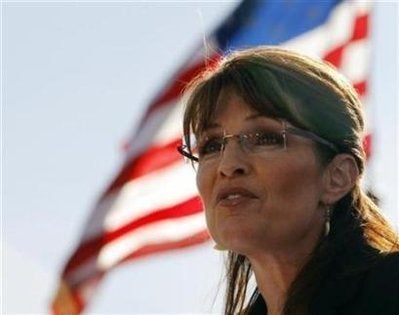 In an interview with CNN's Wolf Blitzer, Sarah Palin says she's ready to work with President Barack Obama -- but she just can't let Bill Ayers go. From the transcript:
PALIN: It would be my honor to assist and support our new president and the new administration, yes. And I speak for other Republicans, other Republican governors also, they being willing also to, again, seize this opportunity that we have to progress this nation together, a united front.

BLITZER: Because, you know, during a campaign, every presidential campaign, things are said, it's tough, as you well know, it gets sometimes pretty fierce out there. And during the campaign, you said this, you said: "This is not a man who sees America as you see it and how I see America."

And then you went on to say: "Someone who sees America, it seems, as being so imperfect that he is palling around with terrorists who would target their own country."

PALIN: Well, I still am concerned about that association with Bill Ayers. And if anybody still wants to talk about it, I will, because this is an unrepentant domestic terrorist who had campaigned to blow up, to destroy our Pentagon and our U.S. Capitol. That's an association that still bothers me.

And I think it's still fair to talk about it. However the campaign is over. That chapter is closed. Now is the time to move on and to, again, make sure that all of us are doing all that we can to progress this nation.

Keep us secure, get the economy back on the right track, and many of us do have some ideas on how to do that and hopefully we'll be able to put all of that wisdom and experience to good use together.

BLITZER: So looking back, you don't regret that tough language during the campaign?

PALIN: No, and I do not think that it is off-base nor mean-spirited, nor negative campaigning to call someone out on their associations and on their record. And that's why I did it.

BLITZER: I just want to sort of footnote, was that your idea or did somebody write those lines for you?

PALIN: It was a collaborative effort there in deciding how do we start bringing up some of the associations that perhaps would be impacting on an administration, on the future of America. But again, though, Wolf, knowing that it really -- at this point, I don't want to point fingers backwards and play the blame game, certainly, on anything that took place in terms of strategy or messaging in the campaign.

Now is the time to move forward together, start progressing America.
Popular in the Community