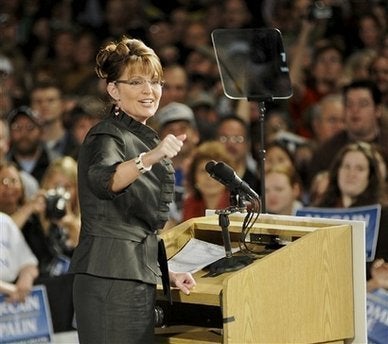 The New York Times reported last week that when Sarah Palin went back to Alaska, she dropped some dubious claims from her oft-repeated stump speech.
In her first campaign event since she left her native state of Alaska, Sarah Palin brought back some lines to her stump speech that she took out for the hometown crowds in Fairbanks and Anchorage.

She told the cheering crowd of a few thousand here that she and her running mate are reformers. To prove her maverick past she repeated an anecdote wildly told on the trail, but eliminated in Alaska. That she got rid of the Alaska Governor's private jet and put it on EBay. She does not add that the plane did not sell on EBay and it had to be taken off the website and then sold through a broker.

She also brought back a line about one of the more infamous pork barrel projects in the country, "I told Congress thanks but no thanks on that Bridge to Nowhere and if our state wanted a bridge we would build it ourselves."
Consider her speech Saturday in Nevada, site of the proposed Yucca Mountain Repository, a controversial project that would store radioactive waste in Nevadans' backyard. At nearly every campaign stop over the last two weeks, Palin has touted McCain's plan to expand nuclear energy, including storage and reprocessing of spent nuclear fuel.

"In a McCain-Palin administration, we're going to expand nuclear energy, expand our use of alternative fuels, and drill now to make this nation energy independent," she said to cheers last week in Lee's Summit, Missouri.

But in Carson City, where the Yucca issue hits closer to home, that remark about expanding nuclear energy disappeared.
Calling all HuffPost superfans!
Sign up for membership to become a founding member and help shape HuffPost's next chapter