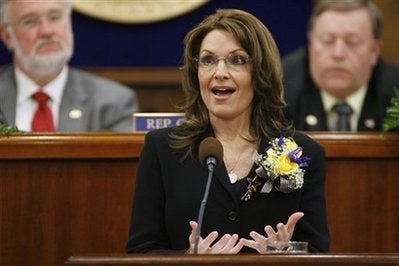 On Wednesday, Governor Sarah Palin was informed that she owed income taxes on the per diem reimbursements she racked up while living at her home in Wasilla. The revision of her tax compliance, which came after the governor requested a review, will cost Palin an additional $17,000. It also spurred questions about the Alaska Republican's accounting practices in general.
Now, the Anchorage Daily News has put online the expense reports that Palin submitted for the last two months in 2008. Tucked in there are some filings that, while perfectly within the realm of officials gubernatorial business, seem either a bit high in cost or curious in purpose.
The Governor, for instance, charged the state of Alaska a $60 per diem expense for an appearance on Fox News on November 9, 2008. A few weeks later, she billed taxpayers another $60 for a "phone call with Sen. Elizabeth Dole." (Dole had lost her reelection bid weeks earlier). On the 26th of November, Palin again turned in a $60 meal/incidental expense per diem report for "Phone call with Gov. Rendell, interview."
Taken as a whole, these expenses constitute a drop in the bucket compared to the thousands of dollars Palin charged for the work she did while living at her personal home. They also seem to fall within the legal confines of appropriate per diem billing (though Alaska taxpayers may take umbrage with that). On a broader lever, the expenditures offer a fascinating window into how Palin -- thrust into the national spotlight -- balanced her work as governor with growing media attention.
There are, for instance, interviews conducted on the same day in November with "Entertainment Tonight" and the New York Times, and, a week later, The Weekly Standard and "Larry King Live." A few days after speaking with Rendell, she filed a $60 per diem expense for a photo session with "UAA Men's & Women's teams" -- likely University of Alaska Anchorage's basketball squads. In mid-December, meanwhile, she met with Alaska Senator-elect Mark Begich, followed by an interview with Human Events (for which she filed a per diem expense of $60). On the next day came a phone call with Senate Majority Leader Harry Reid for what was, ostensibly, a federal matter that pertained to Alaska.

Support HuffPost
The Stakes Have Never Been Higher
Popular in the Community