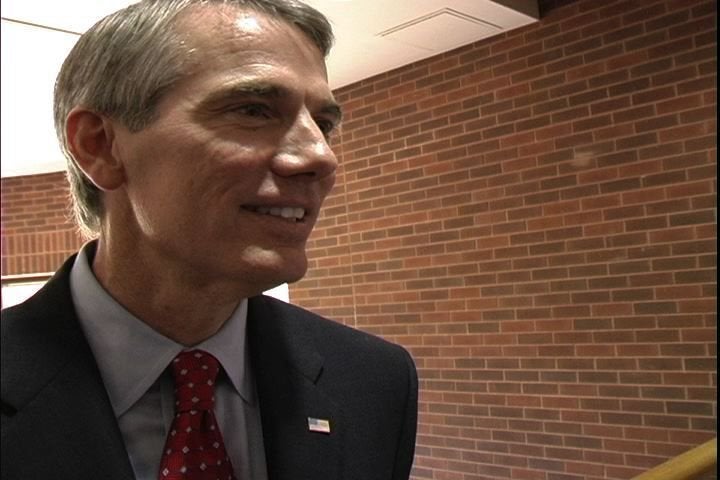 Just hours after aides to John McCain accused the media and Sen. Barack Obama of engaging in sexist and chauvinist treatment of Sarah Palin, another prominent member of McCain's team said the coverage has been neither sexist nor driven by Obama.
Former Rep. Rob Portman, an adviser to the Arizona Republican, argued in a brief interview with the Huffington Post that while the coverage of Palin's family travails has on occasion been out of bounds, there was no inherent gender bias to it. Moreover, Portman lauded the Obama campaign for condemning the personalized scrutiny of the presumptive Republican vice presidential nominee.
"I don't know if [the coverage] would be any worse for her than it would be someone else... Over the line is over the line and both Sen. Obama and Sen. Biden have made statements this week saying that it is over the line, saying that children of candidates really ought to be outside the political fray," said Portman, a former Bush administration official and a one-time potential McCain VP himself. "I think it is absolutely fair to look at someone's record... And it is appropriate for the media to look at that because, in a sense, the media keeps us all honest about what our positions are and if we are consistent. Where it goes over the line is when it becomes about the private life of the family. And to the extent that that does not affect public policy decisions, which in the case of the discussion this week about Gov. Palin's family it does not, I do think it is over the line."
Following days of withering scrutiny of Palin's personal and political record, McCain's campaign has pushed back by accusing the fourth estate of orchestrating an "outrageous smear campaign" to derail her candidacy. Much of it, they have added, was driven by a gender bias. Some, they insinuated, came from the Obama campaign.
"The Republican Party will not stand by while Sarah Palin is subjected to sexist attacks," said aide Carly Fiorina.
Earlier, Fiorina claimed to be "appalled by the Obama campaign's attempts to belittle Governor Sarah Palin's experience." American women, she added, "are more highly tuned than ever to recognize and decry sexism in all its forms. They will not tolerate sexist treatment of Governor Palin."
Also on Wednesday, McCain's national campaign co-chair and former CEO of e-Bay, Meg Whitman told Fox News that the media vetting of Palin had been "completely fair," and refuted the idea that there had been "sexism" in the coverage.
"I actually think it's completely fair for the media to vet Sarah Palin," Whitman said. It is, she added, "the right thing to do" for the media to dig into the background of someone who is "running for the highest office in the land."
Asked if, in the wake of the countless stories and inquiries into Palin's position and life, he felt a sense of relief over not having been tapped as McCain's VP, Portman jokingly replied in the affirmative. The frenzy, he added, "is kind of what I expected."
Popular in the Community