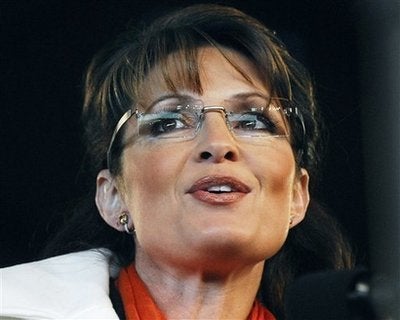 In a conservative radio interview that aired in Washington, D.C. Friday morning, Republican vice presidential nominee Gov. Sarah Palin said she fears her First Amendment rights may be threatened by "attacks" from reporters who suggest she is engaging in a negative campaign against Barack Obama.

Palin told WMAL-AM that her criticism of Obama's associations, like those with 1960s radical Bill Ayers and the Rev. Jeremiah Wright, should not be considered negative attacks. Rather, for reporters or columnists to suggest that it is going negative may constitute an attack that threatens a candidate's free speech rights under the Constitution, Palin said.

"If [the media] convince enough voters that that is negative campaigning, for me to call Barack Obama out on his associations," Palin told host Chris Plante, "then I don't know what the future of our country would be in terms of First Amendment rights and our ability to ask questions without fear of attacks by the mainstream media."
Salon's Glenn Greenwald explains why this argument is frighteningly wrong:
If anything, Palin has this exactly backwards, since one thing that the First Amendment does actually guarantee is a free press. Thus, when the press criticizes a political candidate and a Governor such as Palin, that is a classic example of First Amendment rights being exercised, not abridged.

This isn't only about profound ignorance regarding our basic liberties, though it is obviously that. Palin here is also giving voice here to the standard right-wing grievance instinct: that it's inherently unfair when they're criticized. And now, apparently, it's even unconstitutional.

According to Palin, what the Founders intended with the First Amendment was that political candidates for the most powerful offices in the country and Governors of states would be free to say whatever they want without being criticized in the newspapers. The First Amendment was meant to ensure that powerful political officials would not be "attacked" in the papers. It is even possible to imagine more breathaking ignorance from someone holding high office and running for even higher office?
Popular in the Community