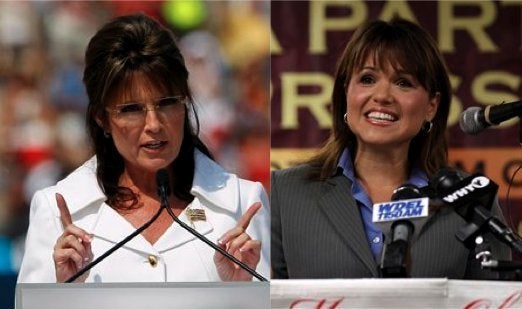 Add Delaware Republican Senate candidate Christine O'Donnell to Sarah Palin's growing list of "mama grizzlies."
The former Alaska Governor called in to Sean Hannity's radio program Thursday to officially give her endorsement to the candidacy of the Tea Party-backed O'Donnell, who is fighting a primary battle against Rep. Mike Castle.
"Let me go ahead and endorse Christine O'Donnell because, Sean, she's the conservative in the race," Palin said. "She is against Obama's cap-and-tax scheme, she is against Obamacare, she is for the free market principles that need to get plugged in to put our economy back on the right track."
Sean Hannity tweeted after his talk with Palin:
Thanks @SarahPalinUSA for the last minute call in. Endorsement of Christine O'Donnell was an exclusive. Said she hadn't told Christine yet.
O'Donnell expressed her appreciation for Palin's support via Twitter moments later:
@SarahPalinUSA's endorsement brings an infusion of fresh energy. Help storm the Castle! http://www.tinyurl.com/stormcastle #DESEN #teaparty
On Wednesday, Palin retweeted a supportive message from another O'Donnell supporter, but the Delaware Senate candidate said that she interpreted it more of a "You go, girl," than an official endorsement.
Palin explained her decision to wade into the primary on a separate Facebook post Thursday:
The wave of positive change can really sweep across our land with the election of Constitutional Conservatives who promise to use common sense and rein in the federal government spending! Please support Christine O'Donnell in Delaware. She will support efforts for America's energy security, patient-centered health care reform, cutting government waste, and letting the private sector thrive and prosper! We can't afford "more of the same" in Washington. Christine will help usher in the real change we need to get America on the right track. Please visit her website at www.christine2010.com and follow her on Facebook and Twitter.

- Sarah Palin
O'Donnell is currently trailing Castle among Republican voters.
Popular in the Community