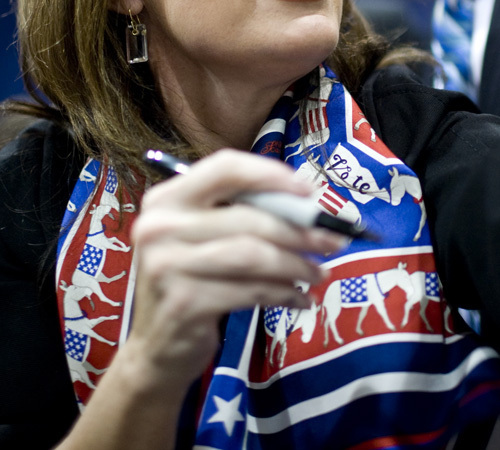 OH NOES! Why on earth is Sarah Palin wearing a Democratic Party keffiyeh, festooned with donkeys and the word "Vote?" Why won't McCain question her on her ties to radical leftist accessories?
So, yeah. I'd say that this is money well spent by the RNC! In my imaginings, this scarf cost Palin $15,000, and all proceeds went directly to ACORN.
UPDATE:
A blogger suggests that this scarf was given to Palin by "someone in the crowd at a Reno rally." A photo essay cited as evidence fails to provide conclusive proof of anything other than the fact that Palin was previously seen at this rally, sans accessories.
Here's a picture of Palin being given the Democratic Party Scarf by someone at the rally, so the RNC is off the hook for this one! Essentially, Sarah Palin will wear anything!
[Lower photo by Amy Beck, The Nevada Sagebrush, 2008]
Popular in the Community