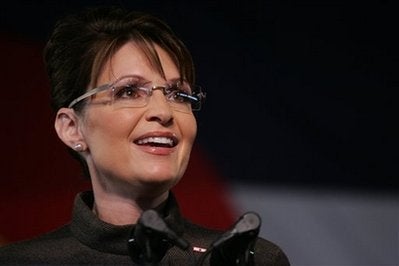 This is not, generally, the message you want to send as the financial markets collapse and the country's economic concerns are at the forefront of the political dialogue.
On Monday, Sarah Palin hosted a major fundraiser on behalf of John McCain in Canton, Ohio. The event, which raised $1 million, was organized by W.J. "Tim" Timken Jr., a major Republican figure in the state.
Timken's company, additionally, is a toxic figure within Ohio's working class community. Only four years ago, Timken Co -- one of the largest manufacturers of tapered roller and needle bearings in the country -- was responsible for job losses in one of the hardest economically hit areas in the United States: Stark County, Ohio.
"He is the stereotypical Republican," said Johnnie Maier, chairman of the Stark County Democrats. "In John McCain's book, Tim Timken makes more than $5 million so he is not middle class... They made $1 million in a [fundraiser] in a county where the private sector and the public sector are laying off people everywhere because people are broke."
In the 2004 campaign, Timken Co. found itself at the center of a provincial but significant political battle. A year and a half before that election, President Bush visited a Timkin plant to tout the trickle down effects of his tax cut policies. "The future of this company is bright, and therefore, the future of employment is bright for the families that work here," he declared.
But all was for naught. Slightly more than a year later, the company's then-chairman, W.R. Timken Jr. said he would close the plant in which Bush had spoken as well as two other plants in the Canton area. He cited business concerns. And more than 1,300 people were threatened with job losses.
According to Maier, some of the jobs ultimately left Canton but the plants didn't close. Timken and local unions ultimately came to a deal. In May 2004, Bush returned to Canton, this time in full campaign mode. The president visited Timken, then a "ranger", having raised more than $200,000 for Bush's reelection. But he was also met by demonstrators who carried signs asking: "Where are the jobs, George?"
''The economy is strong and it's getting stronger -- it lags in places like eastern Ohio, I know that,'' Mr. Bush told a rally of 5,000. ''I just traveled on the bus with workers who told me they are nervous about their future. They're concerned. I am, too. And, therefore, we must have a president who understands that in order to keep jobs at home, America must be the best place to do business.''
Nearly four years later, many of the jobs haven't returned to Canton, but the Republican presidential campaign has. At Monday's event, which was attended by former Senator Mike DeWine and other Ohio GOP luminaries, Palin declared that Wall Street -- having just seen Lehman Brothers file for bankruptcy -- needed reform. Timken, who introduced the Alaska Governor, said of her: "Sarah Palin speaks our language -- the language of action."

"They held it at a private country club," said Maier. "The average Stark County person couldn't even get in the place. And if you wanna know the truth, they just put Sarah Palin in a place where there are only friendly audiences."
The McCain campaign did not return request for comment.
UPDATE: An earlier version of this piece confused W.R. Timken Jr., the former chairman, and W.J. Timken Jr. the current chairman, both nicknamed "Tim." The impression, wrongly, was given that the current fundraiser for Palin was also a "ranger" for Bush. That's not accurate.
Popular in the Community