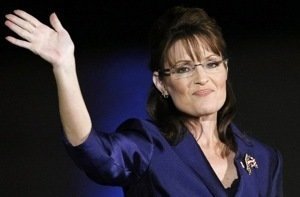 Yet another ethics complaint has been filed against former Alaska governor Sarah Palin, this time on the grounds that both she and her staff used official state facilities and resources for "partisan political purposes."

Andree McLeod, an Alaska community activist who has filed at least half-a-dozen ethics complaints against Palin already, officially submitted a letter to the state Attorney General's Office on Friday charging that staffers within the governor's office engaged in efforts to aid the McCain/Palin campaign. Such efforts, she argues,violated an Alaska ordinance that states that public officers may not "use or authorize the use of state funds, facilities, equipment, services, or another government asset or resource for partisan political purposes."
McLeod points to several aides in the governors office who, in the days after Palin was tapped for the vice presidential ticket, worked with McCain aides and other operatives to ensure a smooth transition. While much of the correspondence was mundane, McLeod insists that they it was unlawful under state ethics law. Alaska Department of Administration Commissioner Annette Kreitzer has stated that:
State employees are prohibited from using the state e-mail system or using other state equipment, including fax machines, telephones, computers, or copiers, for partisan political purposes. However, if you receive such a message, you may respond that Alaska law forbids your use of state equipment for partisan political purposes and ask that the sender not send you further messages concerning campaign activities.
As proof, McLeod includes roughly 200 pages of email correspondence between Palin aides and various campaign committees. The content, obtained through a public records request to the State of Alaska Department of Administration, mostly involves these aides handling a torrent of media requests, coordinating talking points, and arranging phone conversations in the days and weeks after Palin was picked as VP.
Some of these aides would be dispatched from the governor's office to go work on the presidential campaign, so as to comply with ethics laws. But, for at least a portion of time after Palin was on the ticket, they were using official government email accounts.
Among the highlights: Rhonda McBride, a rural adviser to the governor, wrote Palin on September 3, 2008, to offer some "random thoughts about how [her] experience dealing with the challenges of Rural Alaska will help on the national stage..." The thoughts included one memorable talking point that made it into Palin's public events: "Alaska was a critical outpost in the Cold War," wrote McBride. "Even today, we monitor Russian fighter jets that invade our airspace."
On another occasion, Bill McAllister, a communications aide to the governor, sent an email to the McCain campaign asking for guidance about what Palin's position should be on abortion.
"I need to verify what's being said on the governor's behalf regarding two social issues," McAllister writes. "On abortion, she is pro-life, but does she oppose exceptions for rape and incest? On sex education, does she favor an abstinence-only approach or does she allow for contraceptives?"
In late August, meanwhile an aide from the Republican convention committee emailed Tucker Eskew, a McCain aide, as well as Mike Nizich, Palin's one time chief of staff, about organizing a press conference with Republicans who would sing Palin's praises.
"We will need some Alaska folks who are media-ready and Palin fans who know her personally and can relate some anecdotes," wrote Matthew Mackowiak, a staffer at the convention. "One or two from Wasilla (if media-ready) and anyone at state level who knows her and has been vetted would be good."
"Also, maybe a friend from the high school basketball team would be good."
In general, the correspondence is mostly of the traditional campaign variety, with aides (using Alaska.gov email addresses) sending or receiving newspaper clips and sorting through interview requests. There is Nizich frantically asking how Palin's name should be listed on the ballot; Mark D. Kelsey, special assistant to the Governor, sending a copy of the Boston Herald, featuring a gun-toting Palin with the caption "BACK OFF;" and staffers going back and forth with Patrick Gaspard, an aide to Obama, over when Palin could talk on the phone with Joseph Biden.
McLeod, a registered Republican and one-time Palin ally, said she had filed the request in an effort to promote better ethical conduct within state governance. She filed a request for the records related to this specific ethics complaint back in April 2009.
READ THE RECORDS RELEASED BY THE STATE OF ALASKA DEPARTMENT OF ADMINISTRATION:
Calling all HuffPost superfans!
Sign up for membership to become a founding member and help shape HuffPost's next chapter