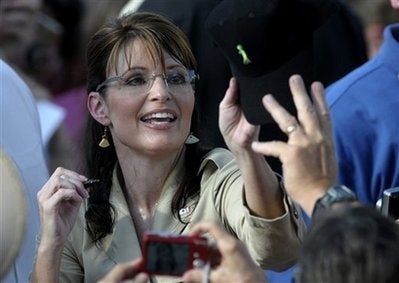 Sarah Palin has finally given a lengthy newspaper interview, but it was not with The New York Times, Washington Post or other large daily. Instead, it appears today in her hometown Wasilla, Alaska, weekly, The Frontiersman. And it was all via email.
The paper ran the interview on its front page today with the intro: "The responses here were not edited and are preceded by the verbatim questions posed to her."
Asked, for example, to name any mistakes she had made as mayor of the town she only came up with underestimating her opponents. She also deflected any blame in the "troopergate" controversy, the book-banning charges and the allegations that she had something to do with rape victims having to pay for their own medical tests.
"I'm not going to win over anyone in the media elite -- I'm going to do my best for the American people," she said.
She also continued to say of the Bridge to Nowhere, "I cancelled the project," even though this has been challenged by various fact-checking organizations.
Amazingly, she suggests that her kids are the first candidate's offspring to have their privacy probed -- after bringing her pregnant teen daughter up on stage at the GOP convention and having her new baby passed around from arm to arm.
Here are a few choice lines from her responses.
"Nothing really prepares you for hatred and made-up stories. But it's nothing like the hard times of a family that's lost a job, lost health insurance, or lost a son or daughter in battle. I would hope that the privacy of my children would be respected, as has been the tradition for the children of previous candidates."

"As governor, I pushed for the largest infrastructure project in North America, the natural gas pipeline that will provide new supply and price relief from Alaska to Americans in the Lower 48."
On the Bridge to Nowhere:
"After taking office and examining the project closely, realizing the Feds were not going to fund it as Alaskans had assumed was the case, I cancelled the project."
On her town billing victims for rape kits:
"The entire notion of making a victim of a crime pay for anything is crazy. I do not believe, nor have I ever believed, that rape victims should have to pay for an evidence-gathering test. As governor, I worked in a variety of ways to tackle the problem of sexual assault and rape, including making domestic violence a priority of my administration."
"As people there know, all questions posed to the library director were asked in a context of professionalism, regarding the library policy that was in place. Before I became mayor, there was conversation in our community about what sorts of books were appropriate for the public library. I asked the librarian about the process for answering that question as a way to familiarize myself with city staff and the issues being discussed in Wasilla at that time. I certainly never advocated banning books. This was a ridiculous, false claim....There were never any books banned and any reports claiming otherwise are grossly false."
On Alaska having the third worst children's health insurance program in the country:
"I know the challenges that families without health insurance face. I know about the tough decisions and I know about their worries. There were times that Todd and I didn't have health insurance. Believe me -- that is a very scary thing for a family. John McCain and I have a detailed plan that includes providing a $5,000 tax credit to families so they can buy health insurance."
"I am an open book on this matter and am fully cooperating with the non-political, legally appropriate and independent investigation of the Personnel Board. I have agreed to produce all documents, and am scheduling meetings with its investigator, Mr. Petumenos....Walt Monegan has acknowledged I did not, nor did Todd, nor did any staff member, tell him to fire anyone. Walt was offered another position because he was not willing to implement the Palin-Parnell administration's agenda to find efficiencies in every state department so that the public could be better served, and to fill the vacant trooper positions that I fought hard to fund."

On the McCain team directing part of state government:
"The McCain-Palin campaign is not involved in operating state government.... The campaign is not involved in state government operations."
Click for the full article.
*
Greg Mitchell is editor of Editor & Publisher and author of the new book on Iraq and the media, "So Wrong for So Long."
Popular in the Community