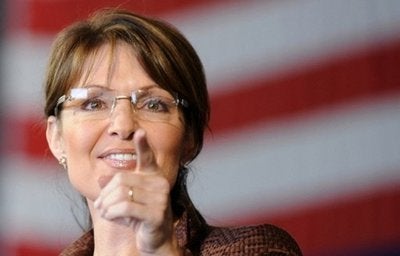 On the campaign trail Saturday, Gov. Sarah Palin defended her record on earmarks and spending claiming - per ABC's Jake Tapper - that she "championed reform of earmark spending by Congress, and I told the Congress thanks but no thanks on that 'Bridge to Nowhere.' If our state wanted a bridge, we'd build it ourselves."
By now, it is evident that the Alaska Republican is either knowingly deceiving voters or simply has her facts wrong when it comes to her support for the bridge. Palin backed the project when she ran for the governor's seat, even posing for a picture holding a t-shirt reading "Nowhere, Alaska" - a sympathetic gesture to the ridiculed construction plans.
And, it turns out, she once promised the voters of her home state that she would not only come to the defense of the bridge but would "not allow the spinmeisters to turn this project or any other into something that's so negative."
Here Palin is from an October 2, 2006 interview with the Ketchikan Daily News, conducted before she was elected governor (and before her opposition to the Bridge to Nowhere became a linchpin of her national persona).
"Asked what issues she's hearing about from Southeast Alaskans, Palin said many residents here feel they've been ignored in some sense.

"I'm hearing from a lot of Southeast residents who believe that maybe they haven't been given their due respect," she said. "Part of my agenda is making sure that Southeast is heard. That your projects are important. That we go to bat for Southeast when we're up against federal influences that aren't in the best interest of Southeast."

She cited the widespread negative attention focused on the Gravina Island crossing project.

"We need to come to the defense of Southeast Alaska when proposals are on the table like the bridge and not allow the spinmeisters to turn this project or any other into something that's so negative," Palin said.

The Gravina bridge proposal has been a priority of Govs. Frank Murkowski, Tony Knowles and previous governors as well as the Alaska Department of Transportation, said Palin.

"There needs to be a link between Ketchikan and its future and its future opportunities and progress, opening up land in this area," she said.
Then there is this quote that was picked up by NPR, in which Palin praised the pork that the Alaska congressional delegation was able to secure in the transportation bill. The praise of Don Young, who has been ridiculed for his earmarks and is under criminal investigation for his dealings with Alaska oil services company Veco Corp., is particularly problematic.
"And our congressional delegation, God bless 'em. They do a great job for us," Palin said at the forum hosted by the Alaska Professional Design Council. "Representative Don Young, especially God bless him, with transportation -- Alaska did so well under the very basic provisions of the transportation act that he wrote just a couple of years ago. We had a nice bump there. We're very, very fortunate to receive the largesse that Don Young was able to put together for Alaska."
Popular in the Community