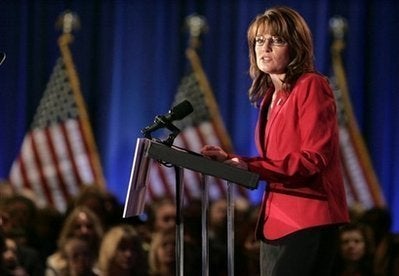 There's a suspicion in some McCain loyalist precincts that Gov. Sarah Palin is beginning to play the Republican base against John McCain -- McCain won't let her campaign in Michigan...McCain won't let her bring up Jeremiah Wright... McCain doesn't like her terrorist pal talks....

Think ahead to 2010...2011...2012.

Palin is ambitious. Very ambitious.

And if she wants the job, she's easily the frontrunner to become THE voice of the angry Right in the Wilderness. She is a favorite of talk radio and Fox News conservatives, and speaks their language as only a true member of the club can. (Her recent Limbaugh interview was full of dog whistles that any Dittohead would recognize. Including her actual use of the word ditto.)
Sarah Palin might well be a formidable contender for the GOP nomination in 2012 even if she's massively unpopular with the sixty-five percent of America that doesn't vote in Republican primaries. In an Obama-era GOP, where the various factions and candidates are competing for control of a increasingly purist rump, isn't hard to see a scenario in which Palin unites evangelical voters and talk-radio conservatives - constituencies that split between Huckabee and either Romney or Fred Thompson, respectively, in 2008 - and rides that bloc to victory against a field that's just as divided as it was in '08.
Popular in the Community