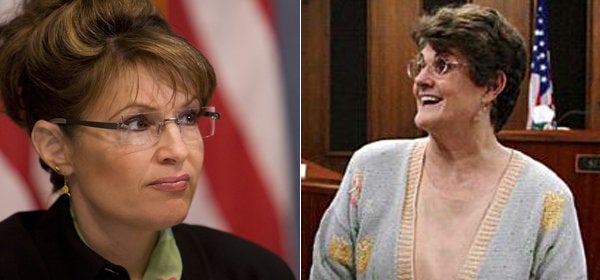 Early this year, an op-ed in the Anchorage Daily News ripped into Gov. Sarah Palin's appearance on a morning "shock jock" radio show as "plain and simple one of the most unprofessional, childish and inexcusable performances I've ever seen from a politician."
So what happened? Palin has repeatedly feuded with the state's Senate president, Lyda Green, over a wide range of legislation. Last January, Palin appeared on "The Bob and Mark Show," whose host Bob Lester despises Green. That's when the trouble started:
Early on in the conversation before Palin started to crack up, Lester referred to Sen. Green as a jealous woman and a cancer. Palin, who knows full well Lyda Green is a cancer survivor, didn't do what any decent person would do, say, "Bob, that's going too far."

But as the conversation moved on, Lester intensified his attack on Green.

Lester questioned Green's motherhood, asking Palin if the senator cares about her own kids. Palin laughs.

Then Lester clearly sets the stage for what he is about to say by warning his large audience and Palin. He says, "Governor you can't say this but I will, Lyda Green is a cancer and a b----." Palin laughs for the second time.

What were teenage boys thinking when they heard the governor laugh at someone being called a b----? How about the teenage girls who look up to Palin. What did they think when they heard her laugh?

But there is more. Lester then describes Green's chair as big and cushy. A clear reference to the senator's weight. Palin laughs a third time. She's just having a grand old time.

Palin was clearly enjoying every second of Lester's vicious attack on her political rival.
Here's an excerpt of the audio, and here's the full clip:
As the Daily News op-ed notes, Palin later released a statement reading, "The Governor called Senator Green to explain that she does not condone name-calling in any way and apologized if there was a perception that the comment was attributed to the Governor." Then again, at the end of the call in question, Lester asked if he could come visit Palin, and she responded, "I'd be honored to have you."
So what does the incident actually say about Palin? If nothing else, it plays into the developing perception that she has a ruthless streak when taking on her political opponents, whether they be opposing legislators or state/local employees.
Popular in the Community