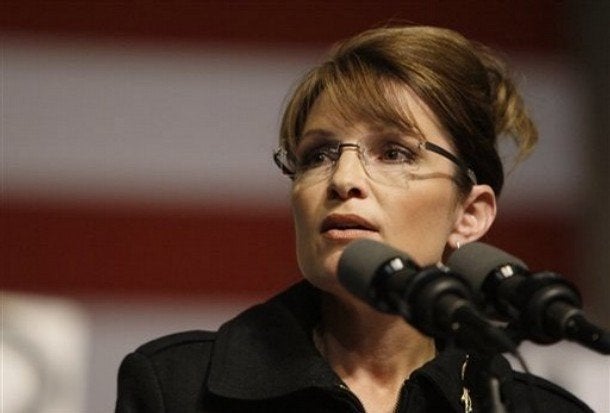 UPDATE: Andy Barr's reporting indicates that the outside Palin "legal fund" may actually be a fraud to raise money for a separate activist group using the governor's popularity:
The home page of "Sarah Palin's Defense Fund" proclaims that "SARAH PALIN NEEDS YOUR SUPPORT!!!" But a click on "donate now" directs the user to the website of Free American Citizens. [...]

Palin's staff said the group did not contact either her political action committee or her governor's office before announcing its formation Wednesday.

The group, which did not respond to requests for comment, is staffed by two people — one in Pacific Palisades, Calif., and another in Weatherford, Texas, according to its website. Donations are directed to a P.O. box in Texas.
Palin's spokesperson tells Barr that the governor will not accept legal defense funds raised by this group.
Defenders of Alaska Gov. Sarah Palin have created a defense fund to help pay for her legal fees, including those stemming from the now-famous Troopergate probe.
Clayton Paslay, director of the group FreeAmericanCitizens.org, launched "Sarah Palin's Defense Fund" on Tuesday. Prompted, he said, by a segment on Bill O'Reilly's Fox News program detailing the governor's half-million dollar legal fees, Paslay set up a processor on his website to help solicit and steer donations Palin's way.
"[O'Reilly] said someone needs to put together a fund," Paslay recalled for the Huffington Post. "I already had [one] in progress, developers working with payment modules on another website. I asked how quickly we could get it up and, boom, we had it up the next day."
Paslay says that the funds are being kept separate from his organization and the governor's political action committee. He is, however, in coordination with Palin's legal team.
"The attorney for Sarah Palin is aware of it and we have correspondence going with him because the funds are going to go to him," he said.
Twenty-four hours in, donors are beginning to open their wallets. Paslay says that 19 separate donations have been made totaling $730, from sources in Florida, Hawaii, South Carolina, Virginia, Arizona, Oregon, Texas, Maryland, Arkansas, Georgia and Ohio. Asked what drew him and others to Palin's cause, he cited his beliefs in "free enterprise," "less government control," and the governor's maternal instinct.
"I think she has been abused," he said. "I think she has been abused by the news media. And here is the thing, a lot of people may not like the idea of a woman being a leader. But who is the best protector of the children? A woman on the playground will protect a child in harm and then they say they can't be leaders? But they are the best protectors.... People don't look at that, people don't see it, but mothers are nurturers."
Based in Burleson, Texas, FreeAmericanCitizens.org was set up after the 2008 election for the purpose of helping candidates who believe in a "Free Enterprise System" and will fight government regulations. A PAC, the group's most prominent issue is seat-belt safety laws that it deems too punitive.
"It used to be 'Buckle up for Safety!' Now, confinement is mandatory!" reads the website. "If we don't self-confine with our safety belts, we are treated as criminals: tickets and fines are issued. And if we do not pay these fines (or taxes), then the forced confinement WILL begin!"
Another of the group's top issues, however, is one that could prove a tricky association for Palin. FreeAmericanCitizen believes that the hiring of illegal immigrants or undocumented workers should not be punished or criminalized.
"These workers are doing a great job for a reasonable wage!" reads the website. "But if you find out that these workers are not American citizens but rather residents from neighboring countries, all of a sudden, YOU, as an "American Citizen," are no longer just a good citizen providing job opportunities but a criminal! And, under the laws of America, you are subject to all kinds of (extra taxation) fines and possible incarceration."
Popular in the Community