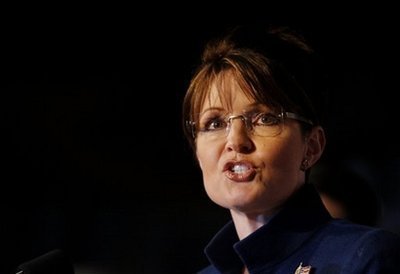 The Wall Street Journal reports on another Sarah Palin firing -- one that sheds light on the way she mingled personal and political business:
Sarah Palin and John Bitney go way back. They were in the same junior-high band class. Mr. Bitney was a key aide in Gov. Palin's 2006 gubernatorial campaign. When she took office, she gave Mr. Bitney a job as her legislative director, and a few months later stood beside him at a news conference and praised his work.

"Whatever you did, you did it right," she told Mr. Bitney and his team.

Seven weeks later she fired Mr. Bitney for what her spokeswoman now describes as "poor job performance."

What happened in between? According to Mr. Bitney, Gov. Palin got a call from another old friend, Scott Richter, informing her that his wife, Debbie Richter, and Mr. Bitney were having an affair. Mr. Bitney had kept that secret from the governor, even as he told her of his divorce, he said.

...

When Gov. Palin was notified by Mr. Richter in July 2007, she called Mr. Bitney into her office. She already knew he was going through a divorce, and, Mr. Bitney said, he had "led her to believe there weren't going to be any more surprises."

Mr. Bitney said the governor "indicated to me that she was hurt, disappointed and upset, and that she didn't know what she wanted to do."

A few days later, Gov. Palin's chief of staff "indicated to me that I needed to leave the governor's office," Mr. Bitney said.
While Palin's office framed the departure as an "amicable" mutual decision, Bitney told Politico that Sarah and Todd Palin "were upset with me about my divorce and who I was dating, and they didn't want that in the governor's office. I wanted to stay with the governor and support the governor -- we're talking about someone who's been a friend for 30 years -- but I understood it, and I have no ax to grind over the whole thing."

Still, Bitney took a line from the "Seinfeld" character Elaine, deeming Palin "a bad breaker-upper."
Palin also fired, according to the Politico, "a campaign adviser whose mother-in-law fought Palin's legislative agenda, a local political mentor who she felt represented the "old boys' network," a police chief who she said tried to intimidate her with "stern look[s]" and a state commissioner who refused to fire her sister's ex-husband."
REAL LIFE. REAL NEWS. REAL VOICES.
Help us tell more of the stories that matter from voices that too often remain unheard.