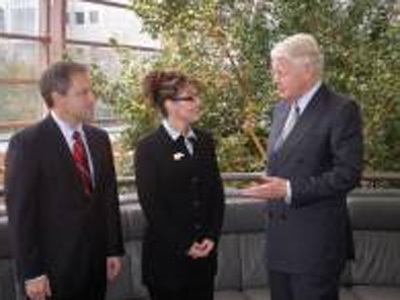 Photo courtesy of the Alaska governor's website
Sarah Palin's trip to New York this week was billed as the Republican vice-presidential candidate's first chance to meet with foreign heads of state. That perception was fueled by her comment this month, when she told ABC News' Charles Gibson that -- as Alaska governor -- she never had met with the leader of another nation.

But Palin misspoke, perhaps forgetting about a meeting with Iceland President Ólafur Ragnar Grímsson last October in Anchorage. The meeting was confirmed Thursday by Bill McAllister, Palin's Alaska press secretary.

Iceland, a nation of some 300,000, has taken a lead in developing geothermal-energy resources, and Grímsson spoke at an Arctic energy symposium, and then had a private meeting with Palin. They talked for the better part of an hour, primarily about geothermal energy and Iceland's expertise in developing that resource, according to Mead Treadwell, an Alaska Republican and Arctic expert who attended the meeting.

"[Grímsson] is a head of state, I know that," Treadwell said. "And we have pictures of them together taken at the meeting."
Popular in the Community