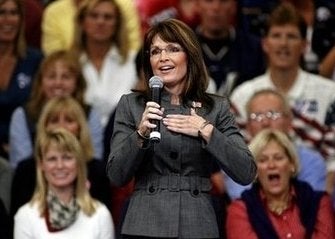 Governor Sarah Palin launched a harsh, frontal attack against Barack Obama on Saturday for the Senator's position on abortion rights.
Appearing in Pennsylvania, the Alaska Republican claimed that Obama had "unconditional support for unlimited abortion," was "vague and evasive on the subject," and held extreme views when it came to life. On several occasions, she took past Obama statements and positions greatly out of context.
Speaking before a generally rowdy Saturday morning crowd, Palin eagerly resurfaced one of the Democratic nominee's most memorable rhetorical flubs from this campaign, only to twist his intent and language.
"[Obama] said that a women shouldn't be quote, punished with a baby," declared Palin.
In actuality, Obama said that he did not want his nine and six year old daughters to be "punished with a baby" should they make a mistake. "I don't want them punished with an STD at the age of 16," he added. "You know, so it doesn't make sense to not give them information."
Later in her campaign rally, Palin accused Obama of supporting partial birth abortion.
"Sen. Daniel Patrick Moynihan said partial birth abortion was too close to infanticide," she said. "Sen Obama thinks it is a constitutional right, but he is wrong."
Truth be told, Obama has argued on the campaign trail that, "the state can properly restrict late-term abortions," as long as there are provisions "to protect the health of the mother." In the Illinois State Senate Obama voted against a bill that would criminalize the practice of doctors performing partial birth abortions.
In the days after Tuesday's presidential debate there was some complaining among conservatives that so little of the campaign dialogue had focused on social issues. Palin's appearance on Saturday suggests that - in addition to reprising Obama's association with Bill Ayers - the McCain ticket will be renewing the cultural wars through focus on issues like abortion. For its part the crowd in Johnston, Pennsylvania, responded to the red meat the Alaska Governor provided them.