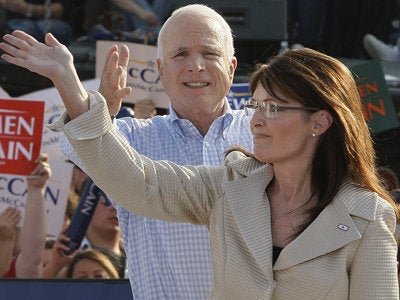 Question: Are you offended by the phrase "Under God" in the Pledge of Allegiance? Why or why not?

Palin: Not on your life. If it was good enough for the founding fathers, its good enough for me and I'll fight in defense of our Pledge of Allegiance.
The pledge, of course, was not written until 1892 and the words "under God" were not added until the 1950s. From Wikipedia:
The Pledge of Allegiance was written in 1892 by Francis Bellamy (1855-1931), a Baptist minister, a Christian Socialist, and the cousin of Socialist Utopian novelist Edward Bellamy (1850-1898). Bellamy's original "Pledge of Allegiance" was published in the September 8th issue of the popular children's magazine The Youth's Companion as part of the National Public-School Celebration of Columbus Day, a celebration of the 400th anniversary of Christopher Columbus's discovery of America, conceived by James B. Upham.

...

The Knights of Columbus in New York City felt that the pledge was incomplete without any reference to a deity. Appealing to the authority of Abraham Lincoln, the Knights felt that the words "under God" which were from Lincoln's Gettysburg Address were most appropriate to add to the Pledge. In New York City on April 22, 1951, the Board of Directors of the Knights of Columbus adopted a resolution to amend their recitation of the Pledge of Allegiance at the opening of each of the meetings of the 800 Fourth Degree Assemblies of the Knights of Columbus by addition of the words "under God" after the words "one nation."

...

Senator Homer Ferguson, in his report to the Congress on March 10, 1954, said, "The introduction of this joint resolution was suggested to me by a sermon given recently by the Rev. George M. Docherty, of Washington, D.C., who is pastor of the church at which Lincoln worshipped." This time Congress concurred with the Oakman-Ferguson resolution, and Eisenhower opted to sign the bill into law on Flag Day (June 14, 1954).
Popular in the Community