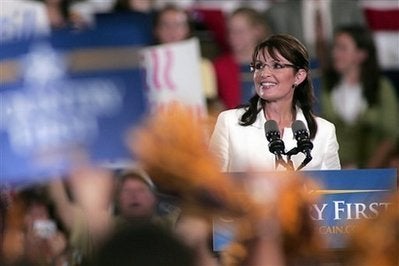 Somebody should tell Sarah Palin that her office décor is unbecoming of her office. Well, of any office for that matter.
It's filled with trophies of dead animals that are strewn about like litter. An enormous bearskin is thrown across the top of the sofa, ready to attack anyone who sits on it; and the biggest Alaskan king crab I've ever seen crawls across her coffee table, looking like the remains of some Alaskan fat cat's lunch.
I suppose that the talismans are intended to be folksy. But they're neither charming, like the assortment of mementos that cluttered FDR's desk in the oval office, nor predictably handsome and tailored like Joe Biden's wood paneled office.
I applaud Palin for the idea of bringing nature into her office décor: antlers and shells and fur can layer and enhance any room. When used thoughtfully, they can make a striking statement. But bearskins should always be on the floor, under a beautiful, cool, modern coffee table. Palin could even bring in her beloved moose by using moose antlers as a table base, topped with a piece of glass, or fashioning a sculptural lamp from them.
And, now that the bearskin is off the sofa and onto the floor, I suggest that Palin toss out that sofa. To counter the organic shapes and colors from all those dead animals, a simple, clean-lined sofa from Ikea or Crate & Barrel in a neutral tone would add sophistication and polish without fanciness. And, since Palin seems partial to bright colors, why not accent the nature scene with a big overscale modern chair like the womb chair in a bright color.
As for the crab? It's just got to go.
Related