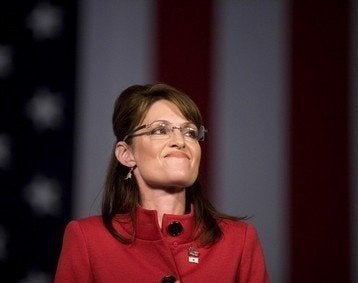 Amy Hertz, Huffington Post: As you'll see from the article that follows, Sarah Palin reported receiving a retainer for her book. In publishing, payments are usually rolled out in several installments--three or four, on signing, on delivery, on publication and then maybe one on paperback publication. It's anybody's guess how much the $1.25 million represents of the total contract.
(RACHEL D'ORO, AP) ANCHORAGE, Alaska — Former GOP vice presidential candidate Sarah Palin reported Tuesday that she has received at least $1.25 million for her hugely anticipated upcoming memoir "Going Rogue."
A disclosure statement released Tuesday discusses Palin's finances from Jan. 1 to July 27, when she resigned as Alaska governor. Palin says she received the money from publisher HarperCollins for the book.
The document only provides a partial picture of the book deal because it doesn't cover the three months she has been out of office. Palin doesn't elaborate on her book compensation, describing the $1.25 million figure only as a "retainer" that appears to be a reference to her lucrative advance.
Her personal spokeswoman, Meghan Stapleton, declined to provide more details of the book deal.
"The Governor has complied with Alaska disclosure law by her filing," she said in an e-mail Tuesday. "Now, as a private citizen, her business dealings, including her publishing agreement, are confidential."
It's likely Palin will make more money when it's all said and done. "Going Rogue" catapulted to No. 1 on Amazon.com and Barnes & Noble.com after HarperCollins announced in late September it had moved up the release date of 1.5 million copies from spring to Nov. 17.
Palin will appear on "The Oprah Winfrey Show" the day before the release of her book, which is currently listed at No. 6 on Amazon.com and No. 11 on Barnes & Noble.com.
Palin has mostly been out of the public eye while working with the ghostwriter of her memoir.
Since resigning, she's made only a few public appearances including a September speech before investors in Hong Kong. She also attended the welcome-home ceremony in Fairbanks for soldiers, including her son Track, and appeared at a gun rights event in Anchorage. She's maintained a larger presence on Facebook, posting occasional messages to almost 950,000 fans, the latest posted Monday night announcing her support of conservative candidates in New Jersey and Virginia.
In the disclosure filed with the Alaska Public Offices Commission, Palin also reported collecting $73,000 as governor in 2009 as well as $6,370.80 in per diem during her final months in office. Her annual salary as governor was $125,000.
The documents also spell out the long list of gifts that Palin received in the final months of her term, including one from former New York Mayor Rudy Giuliani that would make any baseball fan jealous: $4,250 worth of tickets to a Yankees game for Palin, her husband and their daughter Willow. Other gifts listed include a $550 knife set made with snowmobile parts, women's hunting gear valued at $469.95 and travel and lodging to many locations.
In the same time period, Palin's husband Todd earned nearly $34,100 working as a production operator for oil giant BP PLC in Alaska's Prudhoe Bay oil field – a job he quit in September. The disclosure says he also made about $32,260 in the family's commercial fishing business, $3,500 in snowmobile race winnings and a $3,252 snowmobile discount from racing sponsor Arctic Cat.
Palin listed her attorney among debts of more than $1,000, noting "legal fees to fight false allegations while governor." Palin has said her family racked up more than $500,000 in legal fees stemming from multiple ethics complaints filed against her, almost all of which were dismissed.
The disclosure lists checks totaling $5,750 that Palin has received from individuals from outside Alaska, including two dating from her time last year as the running mate of Republican presidential nominee John McCain.
"Checks have not been cashed," a handwritten note says in the disclosure. "They've either been, or will be, returned via volunteers assisting with mail and communications."
It's unclear what Palin meant by the word retainer to describe her upfront book payment. Trena Keating, a literary agent in New York, didn't want to speculate on Palin's arrangement, but said book advances generally are broken down into multiple payments, usually upon signing, upon delivery of an acceptable manuscript and upon publishing, with a wide spectrum of variations possible.
Popular in the Community