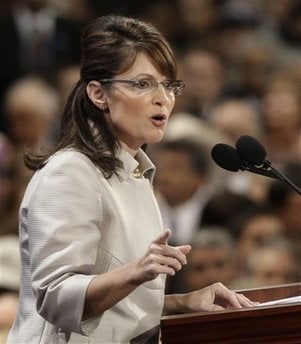 Thomas Frank writes in the Wall Street Journal:
It tells us something about Sarah Palin's homage to small-town America, delivered to an enthusiastic GOP convention last week, that she chose to fire it up with an unsourced quotation from the all-time champion of fake populism, the belligerent right-wing columnist Westbrook Pegler.

"We grow good people in our small towns, with honesty and sincerity and dignity," the vice-presidential candidate said, quoting an anonymous "writer," which is to say, Pegler, who must have penned that mellifluous line when not writing his more controversial stuff. As the New York Times pointed out in its obituary of him in 1969, Pegler once lamented that a would-be assassin "hit the wrong man" when gunning for Franklin Roosevelt.
The Politico's Ben Smith notes that, beyond supporting FDR's assassination, Pegler was an anti-Semite:
He was also known for what Philip Roth described as his "casual distaste for Jews," which had become so evident by the end that he was bounced from the journal of the John Birch Society in 1964 for alleged anti-semitism. According to his obituary, he'd advanced the theory that American Jews of Eastern European descent were "instinctively sympathetic to Communism, however outwardly respectable they appeared."
Popular in the Community