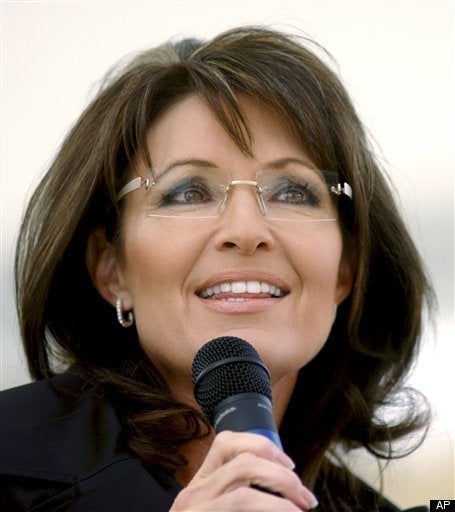 WASHINGTON -- Former Governor Sarah Palin continued escalating her feud with Karl Rove on Sunday, offering a tongue-in-cheek response to the latest criticism from the former Bush strategist, that her reality-show persona didn't provide the gravitas required for a presidential run.
"You know, I agree with that," Palin said, during an interview with "Fox News Sunday," "that those standards have to be high for someone who would ever want to run for president like, um, wasn't Ronald Reagan an actor? Wasn't he in Bedtimes for Bonzo, bozo or something? Ronald Reagan was an actor. Now look-it. I'm not in a reality show. I have eight episodes documenting Alaska's resources, what it is that we can contribute to the rest of U.S. to economically and physically secure our union, and my family comes along for the ride because I am family, family is us, and my family comes along on the ride to document these eight episodes for The Learning Channel. ... So Karl is wrong right there in calling it a reality show."
Earlier in the week, Rove, in an interview with the London Telegraph, offered another in a noteworthy line of thinly veiled, or completely unveiled, swipes at Palin, this time questioning the utility of hosting a reality television series.
"There are high standards that the American people have for it [the presidency]," Rove said, "and they require a certain level of gravitas, and they want to look at the candidate and say 'that candidate is doing things that gives me confidence that they are up to the most demanding job in the world'."
The point, in essence, was that viewers wouldn't or couldn't see Palin as a presidential candidate if her time was being spent prioritizing television contracts and book tours. And on Sunday, Fox News host Chris Wallace picked up the argument, making a prediction to Palin that she wouldn't give up the glamour and money to make a White House run.
"You know, the country is worth it though to make those sacrifices," Palin replied, in a statement that really lent itself to the impression that she would run. "When we talk about making money today, having a lot of fun today, having all this freedom, if the country needed me, and I'm not saying that the country does and that the country would necessarily want to choose me over anyone else. But I would be willing to make he sacrifices if need be for America."
Popular in the Community