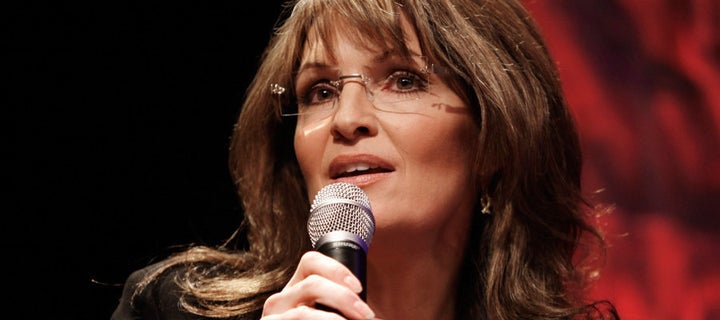 In a fiery speech before a small crowd of Tea Party convention-goers, former Alaska governor Sarah Palin branded President Obama and the Democratic Party as "out of touch, out of date" and "running out of time."
She mocked Obama's supporters: "How's that hopey-changey stuff workin' out for you?" she asked. And she savaged the whole Democratic program: "The only place the left hasn't placed the blame is on their agenda," she said. "So, some advice for our friends on that side of the aisle: that's where you gotta look because that's what got you into this mess."
But the belle of the ball who commanded a $100,000 speaking fee at the pricey, for-profit Nashville affair, didn't lay off Republicans either.
At several points, Palin leveled clear warnings against the very same GOP old guard that plucked her from obscurity, pledging to back rebel candidates in Republican primaries.
"Competition in these primaries is good. Competition makes us work hard and be more efficient... Contested primaries aren't civil war. They are democracy at work and it is beautiful," Palin declared before an audience estimated at under 1,000 people.
"The Republican Party would be really smart to start trying and absorb as much of the Tea Party movement as possible," she concluded, during an awkward, though evidently scripted, question and answer session.
In a speech that was often pointed but rarely substantive, Palin touched on many of the socially and political divisive topics that have impassioned the Tea Party movement and turned it into a significant factor in the upcoming midterm elections.
She took digs at Obama for using teleprompters and blaming George W. Bush for the problems he inherited. She lambasted the "lamestream media" for their biases against conservative candidates and lashed out even harder at those who want to paint the Tea Party crowd as "ideologically extreme" and consider "a candidate's children fair game."
Addressing the White House's handling of the Christmas Day underwear bomber, she cast Obama as an effete academic, ill-equipped to handle the hard-core dangers of modern day terrorism.
"It scares me for my children, for your children, to treat this like a mere law enforcement matter," she said. "It puts our country at great risk... To win that war we need a commander-in-chief not a professor of law standing at the lectern."
On the domestic front, Palin took whacks at everything from the bailout of the banks -- a "slush fund for the Treasury Department's favorite players" -- to the stimulus package -- the programs, she said, "don't sound targeted and they don't sound timely as we were promised. They just sound wasteful."
Palin insisted that, as governor of Alaska, she had turned away a portion of the stimulus -- a line that elicited heavy applause from the adoring crowd. Left unsaid was the fact that she accepted the vast majority of the aid. Palin also supported the bank bailout while serving on McCain's presidential campaign. But it was not a night for nuance.
The former vice presidential candidate and potential 2012 Republican nominee stuck instead to red-meat talking points. In one sweeping segment that encompassed a dizzying range of conservative platitudes, she declared that principled Republicans believe that "only limited government can expand prosperity and opportunity for all. And that freedom is a God-given right and it is worth fighting for... and that Americas' finest are men and women in uniform are a force for good throughout the world and that is nothing to apologize for."
The crowd ate it all up -- and so did the cable news channels, all three of which covered it live.
For all the attention, Palin and her followers stressed repeatedly that they themselves were the outsiders. Palin ridiculed the elitists in Washington, including those who had "fat elite resume in their back pocket." When she spoke positively about Sen. John McCain (R-Ariz.) -- the man who had elevated her onto the national scene -- there was hardly any applause. But the mention of Sen. John Thune -- the under-the-radar conservative Republican from South Dakota -- spurred loud clapping. Finally, when asked about the $100,000 speaking fee had secured for her speech, Palin cast herself as a simple conservative servant, not interested in hauling in cash but willing, in fact, to lay down her life for the cause.
"This isn't about money. It is not about a title. It is not about a leader position in this movement," she said. "It is about the people. I will live, I will die for the people of America whatever I can do to help. And this party, this party that we call the Tea Party, this movement is the future of politics in America and I am proud to be here today."
WATCH: Sarah Palin's Q&A At The 'Tea Party Convention'
Popular in the Community