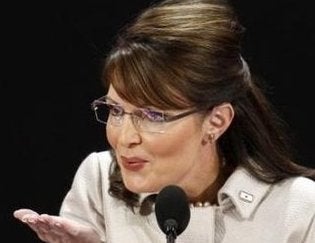 This defines being out of touch. On Hugh Hewitt's radio show, Sarah Palin calls herself "an everyday working class American" -- but the truth is that her family income is $250K and she owns five properties, two watercraft, and an airplane.
Todd and I, heck, we're going through that right now even as we speak, which may put me again kind of on the outs of those Washington elite who don't like the idea of just an everyday working class American running for such an office.
Their combined income of nearly a quarter-million dollars last year was five times the median household income for Wasilla's 7,000 residents. They own a single-engine plane, two boats, two personal watercraft and a half-million-dollar, custom-built home on a lake that is worth three times the average of other homes in town. For the future, they also have a 401(k) retirement account compliments of Todd Palin's years as an engineer with oil giant BP.
So I guess the question is: who's more out of touch, Palin or McCain?
Popular in the Community