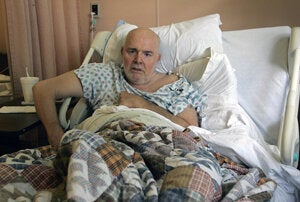 Ever since Sarah Palin's acceptance speech, there has been a great deal of talk about "special needs" children but little about the issues that concern the 54 million Americans with disabilities of all ages. Pollsters and pundits almost completely ignore the tens of millions of voters in the disability rights constituency---adults with disabilities, family members, and many professionals---but they will play a much larger role in this election than most observers recognize. That makes understanding their issues important.
Palin's promise to be a "friend and advocate" for the families of children with disabilities has some parents understandably excited. In August, University of North Carolina researchers reported "chilling" rates of "hardship" among both middle class and poor families with disabled children as they struggle "to keep food on the table, a roof over their heads, and to pay for needed health and dental care." Large numbers of adults with disabilities face the same hardships.
Even though 90% of the 54 Americans with disabilities are adults, Palin, John McCain, and the news media have talked almost exclusively about children. And that talk has been mostly about "compassion" not "issues." The McCain-Palin campaign website has a single page on "Americans with Disabilities for McCain," but it says nothing about policy positions. Other pages mention autism and disabled veterans but no other issues.

In contrast, Barack Obama and Joe Biden have said little on the campaign trail about disability issues but their campaign website provides detailed policy proposals in a comprehensive "Plan to Empower Americans with Disabilities."
Here's a comparison of McCain-Palin's and Obama-Biden's stances on healthcare, health insurance, and social services for people with disabilities.
For many people with disabilities, obtaining adequate health insurance---or getting such insurance at all---is a major problem. The McCain website counters as "myth" that his healthcare plan would deny insurance to people with pre-existing conditions. In fact, the criticism is that his plan would not ban discrimination by insurers against people with pre-existing conditions. The Obama-Biden Plan would.
The McCain website also notes that he supported the Health Insurance Portability and Accountability Act of 1996 which supplied "some protection against exclusion of pre-existing conditions." In fact, the protection it offers is not only expensive but limited.
The McCain website assures that "nothing in John McCain's plan changes the fact that if you are employed and insured you will build protection against the cost of any pre-existing condition." This ignores that many people with disabilities and pre-existing conditions have tremendous difficulties getting and maintaining either employment or insurance, not to mention both. The assertion also seems to assume that they have the financial means to buy insurance.
McCain promises to "work with governors... to ensure those with pre-existing conditions" easy access to care. This "work" involves creation of high risk pools. McCain pledges to "limit premiums" and assist families below an unspecified income level. But in states that steer people with disabilities into such pools, this market-driven approach has resulted in high premiums, high deductibles, time-limited coverage, and often long waiting lists.
The Obama-Biden "Plan" recognizes the risks many people with disabilities face if they try to enter or reenter the workforce and have to give up assured health insurance under federal Social Security Disability Insurance (SSDI) and Supplemental Security Income (SSI), which include Medicare or Medicaid coverage. Obama-Biden's universal health care plan provides for "quality, affordable, portable coverage" if they take jobs and subsidies if they still cannot afford insurance.
Obama has co-sponsored the Medicare Waiting Period Act of 2007 (S.2102) to end the two-year wait for recently disabled persons to qualify for Medicare after qualifying for Social Security Disability Insurance. This proposal is important because that waiting period is a time when many people with disabilities have no health insurance. McCain has not taken a position on that bill.

Mental Health Parity.
Obama co-sponsored the Paul Wellstone Mental Health and Addiction Equity Act of 2007. This legislation would prohibit health plans from requiring higher deductibles or co-pays while offering mental health benefits more limited than the medical coverage they provide. McCain has not taken position on that bill.
State Children's Health Insurance Program (SCHIP). Obama co-sponsored legislation that would allow states to enroll families with incomes up to 300% of the poverty level in the State Children's Health Insurance Program (SCHIP). This policy is vital for families with children who have expensive disability-related healthcare needs, children like Sarah Palin's son. McCain and his fellow Republicans in the Senate opposed the bill. McCain explained that he opposed this legislation because it did not include adequate provision for this expansion of the program.
According to the Wall Street Journal (September 4, 2008), Gov. Palin was "reluctant to support significant expansion" of Alaska's version of SCHIP, so she chose to accept families with incomes only "up to 175% of the poverty level." The Journal called Palin's policy "stingy compared with other states."

Meanwhile, the Anchorage Press (September 11, 2008) reports and an report from Alaska's Department of Health and Social Services verifies that Gov. Palin has not reduced the state's "Developmental Disabilities Waiting List, a list of individuals whose needs qualify them for assistance, but that the state doesn't have adequate funding to help." Alaskan disability rights advocates point out that the state government is awash in oil revenues. Palin has "never elucidated a health care plan or vision or any kind of connection to the disability community," said Jim Beck, executive director of Access Alaska, an advocacy and independent living services agency for people with disabilities. "We're really suffering from not having a big plan."
Palin has not made "health care one of her top priorities," reported the Wall Street Journal, but she does strongly support a "market- and business-driven" approach. Expanding health insurance "was less of an issue for Gov. Palin, much as it is less significant for Sen. McCain."
Nonetheless, McCain too embraces the ideological dogma that profit-oriented businesses will resolve the inequities in the U.S. health insurance system and somehow cover those who are currently uninsured or underinsured. Among those Americans struggling the most desperately are people with disabilities and families.

Community-Based Personal Assistance Services.
Many adults with disabilities and parents of children with disabilities confront another particularly harsh and unjust situation caused by public policies. Medicaid "long-term care" funding is skewed toward institutionalization or nursing home placement. But most of those adults and parents want people with disabilities of all ages to have the option to live in the community, with or near family and friends. Agreeing with them, Obama and Biden are co-sponsoring the Community Choice Act (CCA, S. 799) to allow individuals to decide where they will live by funding community-based personal assistance services. McCain opposes the bill. At a national presidential forum on disability issues in Columbus, Ohio, in July, he said it would cost too much. But studies have shown that community-based or independent living is almost always cheaper than institutionalization. It also ensures the self-determination prized by people with disabilities, including many people with Down syndrome. These competing policies could one day affect Palin's son who has Down syndrome. Disability advocates are asking if she will endorse CCA? And can she persuade McCain to vote for it?
Related
Popular in the Community