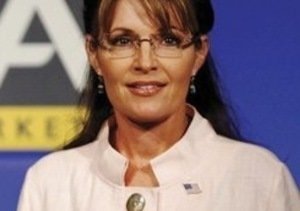 The abrupt departure of Dede Scozzafava from upstate New York's special election has spurred debate over the political muscle wielded by the tea-party movement and its affiliated big-name conservatives.
Whether the ability to big-foot a non-doctrinaire Republican candidate was something unique to New York's 23rd District or if it can be repeated in other contests around the country is a question that holds many keys to predicting what will happen in 2010. But an early indication should be provided during Tuesday's elections.
In New Jersey, a host of out-of-state conservatives have urged Independent Chris Daggett to drop his long-shot bid for the governor's chair. Over the weekend, former Alaska Governor Sarah Palin appeared to join that list.
According to the Daggett campaign, a local New Jersey blog surfaced on Sunday reporting that Palin had asked the Independent to drop his bid or risk being a spoiler for Republic challenger Chris Christie's chances. Daggett mentioned the report later in the day only to have Palin deny she ever issued the threat.
Except that, in the course of her denial, the 2008 vice presidential candidate made it fairly clear that she would, indeed, prefer Daggett to drop out. "To the good people of New Jersey," she wrote, on her Facebook page, "please know that Daggett's claims are false. I've never even suggested he should drop out of the race. But, come to think of it..."
The whirling story lines caused confusion among followers of the race. But, by the end of Sunday, the implication, at least for the Daggett campaign, seemed abundantly clear: Palin had joined the rest of the tea-party crowd -- and former New York City mayor Rudy Giuliani and Rep. Joe "You Lie" Wilson (R-S.C.) -- in trying to remove (or at least diminish) his candidacy.
"It's never going to happen. He's not dropping out" said Tom Johnson, a Daggett spokesperson. "Chris has a lot of support throughout New Jersey he has a lot of people who worked for him. There is no chance in hell he would drop out of the race."
"Rudy Giuliani should withdraw from New Jersey," Johnson concluded. "Chris is not withdrawing."
The parallels between NY23 and New Jersey are, of course, limited. Daggett is not a Republican like Scozzafava. And his candidacy is premised on a theory held dear by tea-party protesters: that the two-party system leaves a chunk of the American populace philosophically frustrated.
"What is happening up there is more of a Republican issue," Thompson explained. "Chris is an Independent. He thinks the political system is broken in New Jersey and a lot of people in New Jersey think that too."
Nevertheless, for those looking for an indication about just how much power the tea-party movement has in conservative circles, the New Jersey gubernatorial contest could provide some interesting tea leaves.
Daggett is going to siphon votes away from the other two candidates, The extent to which the GOP (including Palin, the Republican Governors Association, and others) can marginalize his candidacy -- and, in the process, rally support for Christie -- could end up being the determining margin in the race. The percentage of Republican voters that Daggett ends up getting, meanwhile, should give an indication of how dissatisfied moderate GOPers are with the current direction of the party.
Calling all HuffPost superfans!
Sign up for membership to become a founding member and help shape HuffPost's next chapter