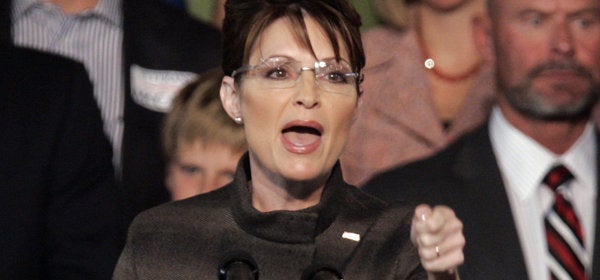 Newsweek reports on the top terrorism prosecutor John McCain's campaign has hired to stop the investigation against Sarah Palin:
A former top Justice Department prosecutor now working for John McCain's presidential campaign has been helping to direct an aggressive legal strategy aimed at shutting down a pre-election ethics investigation into Alaska Gov. Sarah Palin.

The growing role of Edward O'Callaghan, who until six weeks ago served as co-chief of the terrorism and national security unit of the U.S. attorney's office in New York, illustrates just how seriously the McCain campaign is taking the so-called "troopergate" inquiry into Palin's firing last summer of Walt Monegan, Alaska's Public Safety Commissioner.

O'Callaghan emerged publicly for the first time this week when he told reporters at a McCain campaign press conference, in Anchorage, that Palin is "unlikely to cooperate" with an Alaskan legislative inquiry into Monegan's firing because it had been "tainted" by politics. That new stand appeared to directly contradict a previous vow, expressed by her official gubernatorial spokesman on July 28, that Palin "will fully cooperate" with an investigation into the matter.

But O'Callaghan (who resigned from the U.S. attorney's office at the end of July to join the McCain campaign) is doing more than just public relations when it comes to "troopergate." He told NEWSWEEK that he and another McCain campaign lawyer (whom he declined to identify) are serving as legal "consultants" to Thomas Van Flein, the Anchorage lawyer who at state expense is representing Palin and her office in the inquiry. "We are advising Thomas Van Flein on this matter to the extent that it impacts on the national campaign," he said. "I'm helping out on legal strategy."
The AP adds that McCain campaign control over Palin extends beyond the trooper scandal:
GOP vice presidential candidate Sarah Palin is effectively turning over questions about her record as Alaska's governor to John McCain's political campaign, part of an ambitious Republican strategy to limit any embarrassing disclosures and carefully shape her image for voters in the rest of the country.

...

Palin's normal press secretary, for example, now turns away inquiries from any reporter who isn't permanently based in Alaska, referring questions to the presidential campaign. Trouble is, some of McCain operatives only recently have arrived in Alaska and struggle to explain Palin's positions on arcane state issues.

McCain's campaign has sent at least one dozen researchers and lawyers to Alaska to pore over Palin's background, ready to respond to questions about her tenure as governor and mayor of Wasilla, a small town outside Anchorage. Griffin has been leading the team in Alaska, which includes operatives of the Republican National Committee.

Republicans are rebutting what they describe as smears against Palin. Last week, McCain's campaign formed a "truth squad," which includes current and former GOP politicians who agree to speak with reporters. Heading up the effort from Arlington, Va., are Mark Paoletta and O'Callaghan, both Republican lawyers, and Brian Jones, a former communications director for McCain.
A conservative Alaska columnist lambasted Palin in the Anchorage Daily News for her reaction to the investigation:
You really can't experience the full effect of Monday's news conference featuring Palin spokeswoman Meghan Stapleton unless you hear it for yourself. Stapleton passionately attacked former Commissioner of Public Safety Walt Monegan. Her rhetoric was plain, desperate, and obvious. Her tone, pure shrill.

With intensity, urgency, and alarm in her voice, Stapleton described Monegan's behavior as commissioner as egregious insubordination, full of obstructionist conduct and a brazen refusal to follow instructions.

Did Walt Monegan, former Marine, and lifetime crime fighter deserve this? Of course not.

But history has proven, get in the way of Sarah Barracuda's political ambition, and you won't know what hit you.
Calling all HuffPost superfans!
Sign up for membership to become a founding member and help shape HuffPost's next chapter