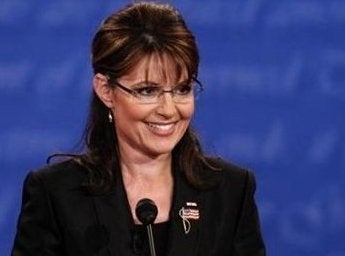 First published at WashingtonTimes.com

OMAHA, Neb. — Republican vice presidential nominee Sarah Palin drew about 6,000 tonight at a rally here where she reprised the greatest hits against Barack Obama.
But she did have a great new line in defense of her series of awkward interviews with CBS' Katie Couric. She talked about her "less than successful interview" and the crowd booed in the direction of the press sitting near the riser for video cameras.
"I was just trying to give Tina Fey more material. Job security for Saturday Night Live," she said, to big laughs.
Palin repeated her mention of Bill Ayers, and blasted Obama for his comments about "bitter" Americans in rural areas.
"This is not a man who sees America as you and I do," she said of Obama. "We see America as the greatest force for good in this world."
Also worth noting, Palin aides played one of Obama's signature songs as the rally concluded: Brooks and Dunn's "Only in America."
Before the rally, Paul Schmitt was staffing a parking lot for $5 per car across the street from the Omaha Music Hall. He's an Obama supporter, and is wearing his feelings on his chest.
Schmitt told me he was heckled all day, especially by women. While he and I were chatting, two people ribbed him, one asking if he really worked at the parking lot or if it was some sort of joke.
He said one Palin fan pulling into the lot blurted out: "You're the only Obama supporter that believes in capitalism!"
Actually, that's not true.
A few minutes later, I spotted this woman selling t-shirts:
As the crowd mocked her, she said the shirt was to display both of her for-sale items.
"I'm a capitalist before I'm anything else," she said.
The Obama campaign said it would not organize a visibility event with supporters, instead choosing to do a big phone bank at the Omaha office.
But several protesters showed up anyway, causing friction with some motorists and with the Palin fans in a long line to get in the building.
Some heckled the Obama fans, and one group began singing church songs to drown out the protests.