It's tough getting up to the front of the line of those wanting to call Sarah Palin for the truckload of lies spewed in Going Rogue. Even John McCain has gotten into the act by charging Palin with fabricating a $50,000 bill she claimed she got stuck with for her "vetting" and by praising the two aides targeted by Palin, Steve Schmidt and Nicolle Wallace.
Up in Alaska, the line is just as contentious. Everyone from Palin's first years on the Wasilla City Council to her gubernatorial aides have challenged Palin's rendition of her political career in the Last Frontier.
But perhaps the nastiest and most duplicitous passages of all in Going Rogue are those directed at Andree McLeod, the longtime Republican watchdog out of Anchorage who filed many of the Alaska Ethics Act complaints that, by Palin's own admission, hounded her from office.
Palin's venom directed at McLeod is both racist and viciously inaccurate. Perhaps a court will one day determine if it's also libelous.
McLeod, now in her mid-50s and who is of Armenian descent by way of Lebanon, is referred to as the "falafel lady" repeatedly by Palin throughout her book. It's an intended slur of ethnic derision, loaded with all of Palin's adolescent fury. It's also reminiscent of those members of Palin's "Team Sarah" who referred to Barack and Michelle Obama's Inaugural Dance as the "Watermelon Roll." The phrase is as appalling as it is infantile.
Perhaps most importantly--and this is the one issue that astonishes those in the Lower 48 when I talk to them about Palin and Alaska politics--McLeod is a tried and true Republican. So are most of Palin's staunchest critics in Alaska, from Lyda Green to Rick Rydell to Andrew Halcro.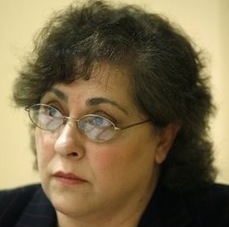 Never one to let facts get in the way of a good story--especially when it's her story--Palin identifies McLeod as part of a left-wing conspiracy loaded for bear against her. This is a howler. McLeod actually ran as recently as 2004 for the Alaska House of Representatives as a Republican. McLeod, like many other Palin critics who filed ethics complaints, is a fiscal conservative. Palin continues to lie about the nature of her opposition to those in the Lower 48 because there's an information disconnect between those who live in the Last Frontier and those who live "Outside."
McLeod had made friends with Palin after she lost her bid for Lt. Governor in 2002 and before Palin served as the chair and ethics officer of the Alaska Oil & Gas Conservation Commission. They worked together during Palin's highly publicized battle with Republican Party Chair Randy Ruedrich. None of that is included in Going Rogue. It's a lie of omission--one of truly grand proportions.
And guess what else you won't read in Going Rogue? Sarah Palin actually supported McLeod politically during her runs for the Alaska state house. Prominently displayed on McLeod's campaign brochure was a supportive quote from the former Mayor of Wasilla:
Like many of us, Andree wants good government. She's not afraid to stand up for what's right. Though she ruffles a feather or two now and then, this intelligent Alaskan is exactly what we need during these times.-- Sarah Palin

Of course, Palin is possessed of neither the decency nor the integrity to acknowledge any of this history or the depth of her relationship with McLeod in Going Rogue.
There's a lengthy email correspondence between these two political allies dating back nearly seven years. Palin is often full of praise.
That was a great letter to the ed. this week Andree. I haven't had time to call but wanted to tell you it was, again, insightful & educational & good writing.
I'm still disenchanted with the whole issue of RR and state politics and am not even very optimistic about the call for an independent investigation. We'll see. I guess I'll believe it when I see it.
Hope you're doing well, staying warm & staying on top of all these state issues I'm hearing about on the news!
Love,
SP

Other Palin emails to McLeod refer to her as "intelligent," "bold," "powerful" and "encouraging." In another email Palin wrote: "Ugh! I know you must get so frustrated because you're all about accountability!"
Yet another, written in Palinese, declares:
wow! again! YOU ARE A WRITER... I'll bet your son is, too.
You will be thanked for summing up for others what many believe: that there's nothing wrong with healthy debate and challenges to the status quo when something is wrong & it can easily be fixed!
Note Palin's compliments about McLeod's writing, but in Rogue she says that McLeod's ethics complaints got "more and more sophisticated," indicating that they weren't being written by her. Palin also claims: "We always suspected that someone was funding and directing Andree's efforts."
McLeod calls this charge an "outrage." There's not a whisker of proof in Palin's book (no footnotes, no bibliography, no index, and obviously no fact-check) presented for this in the text. It's nothing less than despicable.
For the first time, McLeod has released another Palin email to her, written in August of 2003. The email not only reveals the closeness of Palin's relationship with McLeod but also the ease with which they formerly communicated.
Hi Andree:

Did you hear us talking about you on the Mike Pocaro show Monday evening?! It was a hoot! He was impressed with your efforts on the VanEten issue & I called in to say "Kudos to Andree... she's obviously got tireless energy and desire to keep government and government officials accountable to Alaskans... we need more "Andrees" in this state... etc..." And then that gal, "Michelle" (who calls in a lot) called right after I did to say, "Sarah Palin just needs to stay out of Anchorage politics... blah blah blah..." and the show went on with you as the highlight for callers! It was awesome. Ya' done good again!!!

Sarah
McLeod has dozens of emails between herself and Palin. But once Palin was elected governor, McLeod was suddenly persona non grata.
In Going Rogue, Palin would like everyone to believe that all of her problems began after she was named as McCain's running mate, what Palin has defensively dubbed the "new normal." (Her shameful rendition of "Troopergate," which commenced in the summer well before her nomination, is astonishingly duplicitous.) In fact, McLeod 's concerns about Palin began in the spring of last year, when, during the State Republican Convention in March of 2008, McLeod observed two top Palin officials--Frank Bailey and Ivy Frye--closely involved in partisan gamesmanship. That's when McLeod first became concerned that Palin's administration was crossing the line in terms of the state's ethics act.
There was never a "normal" in Sarah Palin's Alaska--ever.
Perhaps most importantly, Palin's checkered political legacy in the Last Frontier may not be over yet. McLeod says that she will be filing more complaints involving Palin and her administration.
I've discovered emails which prove that Palin officials worked on the campaign while on the state payroll clock. That is wrong and should not be tolerated. Also, there's the outstanding issue of Palin not turning over the reins to the Lieutenant Governor when she left to campaign as mandated by the Alaska Constitution. We deserve to know who was responsible for leaving Alaska without a master at the helm and why.

Award-winning writer and filmmaker Geoffrey Dunn's book The Lies of Sarah Palin: The Untold Story Behind Her Relentless Quest for Power will be released by St. Martin's Press in spring 2010.
REAL LIFE. REAL NEWS. REAL VOICES.
Help us tell more of the stories that matter from voices that too often remain unheard.