In the face of Sunday night's historic House vote on health-care reform, former Alaska governor and losing VP candidate Sarah Palin -- clearly eyeing a bid for the 2012 GOP presidential nomination -- has been waxing apoplectic on her Twitter account about the impending legislation.
She also mixed up several word salads in an interview with Bill O'Reilly that was so garbled even O'Reilly had to cut her off several times. Whew!
Palin -- whose duplicitous allegation of "death panels" helped establish the rancorous tone of the national discussion about health-care reform -- has consistently shown her capacity for deceit throughout the debate. The truth never seems to get in the way of her ugly and relentless political opportunism.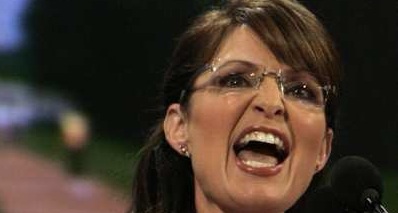 Her latest Twitter posting wallowed in the same shameful duplicity of her "death panel" hyperbole -- which earned her the dubious award of Lie of the Year from PolitiFact.com. Apparently, Palin is working on a two-peat in 2010.
Shocking new questions re:whether military healthcare plans r protected under Obamacare. How will underpaid troops afford their own purchase? [sic]
Palin then posted a Twitter link to a National Review blog raising the issue of whether military health care plans would be covered under "Obamacare" -- the derogatory term that the right-wing has labeled health care reform legislation.
As is often the case with Palin, it was as duplicitous as it was disingenuous.
Palin -- who her former aides in Alaska say was often "clueless" about the legislative process -- was apparently unaware that the House was in the midst of passing legislation yesterday (by a bipartisan vote of 403 to 0) that specifically protected all members of the military from any requirements mandated by the health-care legislation.
John Rowan, head of Vietnam Veterans of America, lauded the passage of the House legislation and said that it "ensures that health care programs for veterans, active duty military, retired military, and their families/survivors will not be affected negatively by the pending health care reform legislation."
He labeled Palin's assertions -- and others who joined her in raising such allegations -- a "false alarm."
The VVA does not appreciate spreading rumors that are not accurate by any political partisan from any point of the political spectrum. Issues affecting veterans and their families are not, should not, and must not become partisan footballs to bat around. VVA decries any effort, by anyone, that would do just that.
Retired U.S. Army General and Secretary of Veterans Affairs Eric K. Shinseki was also appalled by the unfounded charges.
Fears that Veterans health care and TRICARE will be undermined by the health reform legislation are unfounded. I am confident that the legislation being voted on today will provide the protections afforded our nation's Veterans and the health care they have earned through their service.

Award-winning writer and filmmaker Geoffrey Dunn's book The Lies of Sarah Palin: The Untold Story Behind Her Relentless Quest for Power will be released by St. Martin's Press in 2010.
Popular in the Community