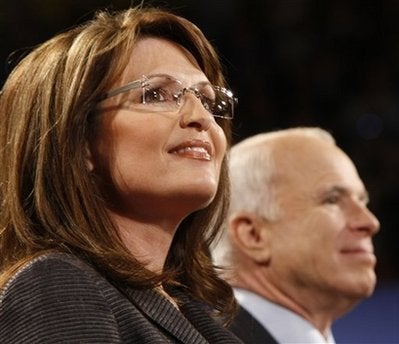 Today the Washington Post's Sleuth reports that Sarah Palin is spending more than John McCain on her own celebrity makeup artist.
McCain's September payments of $8,672.55 to "American Idol" make-up artist Tifanie White, who has also worked on the reality dance show "So You Think You Can Dance," are a drop in the bucket on the campaign's beautification front compared to the GOP vice presidential nominee.

The Sleuth has learned that Palin's high-paid traveling make-up artist is Amy Strozzi, who was nominated for an Emmy Award for her work as head of makeup on "So You Think You Can Dance." Strozzi was paid $13,200 by the McCain-Palin campaign last month alone, according to the campaign's latest financial disclosure report filed this week.
We noticed that Governor Palin's been wearing particularly heavy blush in recent weeks. See a slideshow of Sarah Palin's makeup transformation here.
Popular in the Community