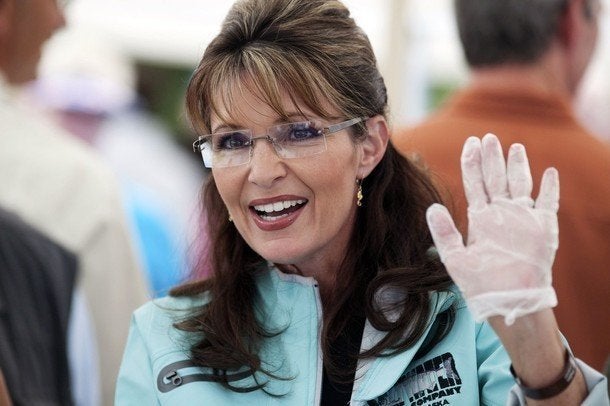 Former Alaska Governor Sarah Palin's standing among the American public has plummeted in recent weeks, as the potential 2012 presidential candidate has weighed in forcefully (and inaccurately) into the health care debate.
A new CNN Poll shows that Palin's favorability rating has fallen seven percentage points since May, from 46 percent to 39 percent. Anything under the 50 percent mark is considered problematic, especially when the politician is a known quantity (only five percent of the public said they had never heard of the former governor). Fully 48 percent of those polled said they had an unfavorable impression of Palin.
The same poll found that the man who tapped Palin to be a vice presidential candidate, Sen. John McCain, (R-AZ..) had also seen his favorability rating drop by seven percentage points. But the Arizona Republican still is viewed positively by 51 percent of the public.
CNN's findings are, of course, just a snapshot of public perception at a given time. But they do come as Palin has begun to make her first political steps in her post-gubernatorial career. Last week, the Alaska Republican posted a Facebook message declaring that President Obama wanted to set up "death panels" to determine which sick and elderly patients would be euthanized.
Meanwhile, Palin's partisan detractors are determined to keep her as the face of the opposition.
On Wednesday, the Democratic Congressional Campaign Committee sent out a grassroots organizing email, blasting Palin for her "outrageous" claim.
"While Palin's attack is a complete fabrication, the GOP is closing ranks to defend these outright lies. Over the weekend, former Speaker Newt Gingrich stood by Palin's bizarre 'death panel' accusation on national TV," the email reads. "But this is how we'll beat Palin and Gingrich's shameless fear-mongering - by every one of us spending every day aggressively fighting back with the facts. That's why the DCCC has put together Health Care Fact Check Cards debunking GOP myths on health insurance reform with the real facts."
Calling all HuffPost superfans!
Sign up for membership to become a founding member and help shape HuffPost's next chapter