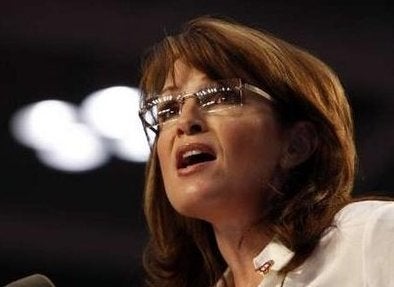 A day after The Washington Post's Dana Milbank wrote about how the Secret Service is blocking press at Sarah Palin's rallies, it appears Palin's staff is blocking her from listening to the press. Palin revealed at a fundraiser last night that she is in an ever-growing media bubble.
"So North Carolina, I appreciate you all so much, who are here who already get it. You know, maybe I'm preaching to the choir a little bit here, but being here encourages me because I know that I'm not alone and I'll send this message back to John McCain also. At those times on the campaign trail when sometimes it's easy to get a little bit discouraged, when, you know, when you happen to turn on the news when your campaign staffers will let you turn on the news," she said, prompting laughter from the group. "Usually they're like 'Oh my gosh, don't watch. You're going to, you know, you're going to get depressed.'"

She added that while she doesn't always appreciate the way reporters portray the GOP ticket, she's been bolstered by the prayers of many of the campaign's backers.

"But yeah, sometimes you do get depressed watching what it is that they're reporting and the spin and some of the distortion of what our message is and what we stand for. Sometimes that, that gets draining," she continued. "But it's at events like these and our rallies that we are so energized and inspired and we know that we are not alone. We feel your strength and we feel the power of prayer, so many of you tell us that you are praying for us and praying for our country and that's why we so appreciate you being here."
Palin also attributed polling numbers to God. "We even saw today, thank the Lord," she said, looking upwards and raising her fist, "We saw some movement."
Calling all HuffPost superfans!
Sign up for membership to become a founding member and help shape HuffPost's next chapter