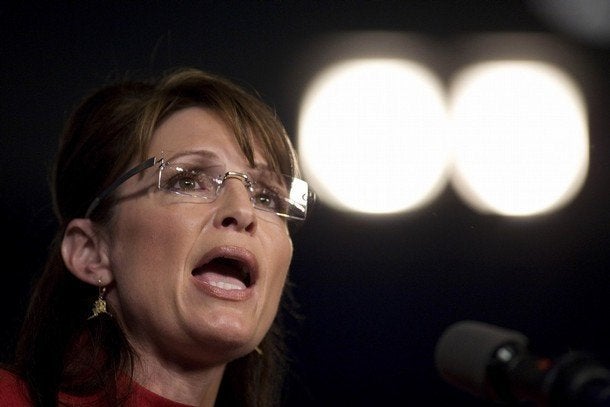 Nearly a month after she and John McCain were soundly defeated in the presidential election, Gov. Sarah Palin took to the campaign trail, this time to help Republicans hold on to a potentially significant Senate seat.
The appearance by the Alaska Governor at a rally for Georgia Sen. Saxby Chambliss Monday was a highly anticipated affair -- not least because the Senate race could provide Democrats with a filibuster-proof majority in that legislative body.
But Palin's role as campaign closer said as much about her political fortunes as it did the national party. Still a veritable star in the GOP ranks, her draw seemed somewhat limited on the stump. While MSNBC carried the roughly 15-minute speech in full, CNN cut out only a few minutes in and FOX News didn't even go to the affair.
At the same time, Palin was actually tasked with speaking after Chambliss (usually the candidate himself gets the last word), and she did her best to rev up the crowd with a laundry list of red meat items: national security, pro-life measures, taxes, and spending. At one point she decried negative campaigning -- a tactic that led her to become the wildly divisive figure she is today.
"Republicans may be the opposition party today, but that doesn't mean we have to be the negative party," said the governor. "We have our path to follow. We have our own ideals to serve and we should always look for ways to work cooperatively with the majority party to serve the common good. America deserves no less than our greatest efforts today."
In between she offered praise for McCain, whose allies, according to campaign post-mortems, viewed Palin as a liability, diva and rogue political agent.
"It was just like Sen. McCain to put defeat behind him and see what more he could do for the U.S. Senate and see what more he could do to progress this nation," Palin said of McCain's own campaigning on behalf of Chambliss.
The Georgia runoff election will occur on Tuesday, after neither Chambliss or Democratic challenger Jim Martin were able to secure more than 50 percent of the vote on November 4. Public opinion polls show the race being similarly close the second time around, but Chambliss seems positioned to win reelection.
With Democrats currently holding 58 seats in the Senate, and with the Minnesota race in a recount, the contest in Georgia could give Democrats a filibuster-proof majority for Democrats. And, in the end, the idea of Chambliss serving as a buffer against one-party dominance was Palin's main pitch. On several occasions, the Alaska Gov. spoke of the need for political balance in Washington. Saying the Georgia was "on her mind," she concluded that the campaign between Martin and Chambliss had, nevertheless, drawn the eyes of the world.
"I'm kind of selfishly looking at this," Palin told the crowd. "This is not just for Georgia, this is for folks in Alaska, Hawaii and Maine... and in Washington D.C. This is for my kids and their future. We need Saxby because we need checks and balances in Washington. And we will not have that if Saxby is not reelected, Georgia."

Popular in the Community