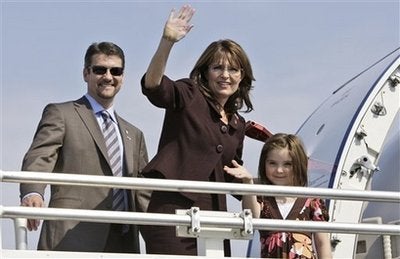 In typical news-dump fashion, the McCain campaign put out the last two years of Sarah Palin's tax returns late Friday afternoon.
The information contained a few interesting revelations in what was, otherwise, a fairly mundane filing. Palin, it appears, did not pay taxes on the more than $60,000 of travel reimbursements that she and her family members reportedly billed the state during her 18 months as governor. There is a fairly wonky debate over whether she should have been charged for these trips or whether it was accounted for in her salary. John Bogdanski, a tax professor at the Lewis and Clark Law School, told the Huffington Post's Seth Colter Walls that they did qualify as taxable income.
It does not appear that such deductions would have been allowable for any amounts attributable to travel by her husband and children. Section 274(m)(3) of the Internal Revenue Code strictly forbids deductions for bringing spouses and dependents along on business travel unless the spouses and dependents (a) are employees of the taxpayer (here, the taxpayer is the governor), (b) are traveling for a bona fide business purpose, and (c) would otherwise be entitled to deduct the travel on their own tax returns. Unless Palin's spouse and kids are also her employees and she can show that they were away on their own businesses, their expenses would not be deductible by the governor. And therefore she cannot exclude from income any per diems attributable to any of them. (By the way, since she's the employee, the income would be required to be reported on her own return, not her kids'.)
Overall, the Palins reported a gross income of $127,869 in 2006, and paid taxes amounting to $11,944 (an effective rate of 9.3 percent). In 2007, the family reported earning a gross income of $166,080 ($107,987.00 of which came from Gov. Palin) and paid taxes totaling $24,738, for a rate of 14.9 percent.
But there is some discrepancy with the latter number. According to an accompanying 2007 personal financial disclosure report, Palin's "income" as governor of Alaska was $196,531.50, well above the $107,987.00 that was noted on her W2 form from that same year. An email was sent to the McCain campaign for clarification. And this story will be updated should aides reply.
Palin's personal financial disclosure form also showed a moderate amount of assets. The family has ownership or interest in several properties, including tracts on several Alaska fishing spots. And Todd made between $50,000 and $100,000 from British Petroleum's retirement plan.