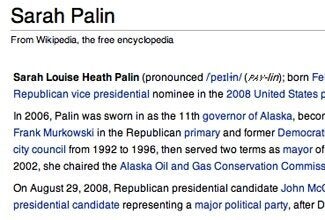 Internet watch dogs have sniffed out an online snafu in terms of Governor Sarah Palin's biographical credibility. According to a story that broke on NPR Friday, 30 "favorable changes" were made to Palin's Wikipedia biography. The changes, discovered by a Wikipedia editor, and laid out side-by-side on a live Wikipedia page (courtesy Daily Kos article), show her bio being pumped up for voters, emphasizing the kinds of details that the campaign will be touting during the coming weeks.
It's unclear as to whether the person who made the changes to the Wikipedia entry is affiliated with the campaign or not, but based on what we know so far, it looks suspicious. Whoever edited the entry is clearly a Palin supporter and not a neutral party, using the alias 'Young Trigg,' and only editing that one entry in Wikipedia. Whether the person knew that Palin would be the nominee as of the next day is yet to be determined, but even given the probabliity that she would be the choice, it would have been a good tactical move by the campaign and supporters to update her biographies in all locations just in case she was selected.

A few interesting tidbits from the Wikipedia entry that also lead to the conclusion that the entry was updated for campaign purposes: Palin is still listed with her profession as 'journalist.' Also, compared with Kansas Governor Kathleen Sebelius's Wikipedia entry, Palin's is now longer (Sebelius was on the short list for an Obama VP choice and has a longer political cv than does Palin.) More information on Palin's son, Track, being deployed to Iraq, was also added to the entry, similar to a point also being emphasized by the Obama campaign about Joe Biden's son, Beau.
According to NPR, Wikipedia is now restricting who can edit Palin's page, a restriction that was not in place previously. After the McCain campaign's history of being heckled by tech savvy progressives for quotes about his Internet use like the San Francisco Chronicle article where he said, "[i]t doesn't mean that I have to e-mail people" and referred to how his staff shows him e-mail throughout the day, the campaign needs to tread cautiously in terms of technology use. It's widely accepted that the McCain campaign and supporters are not as savvy as the Obama campaign, for obvious demographic reasons, but the netroots community will continue to take down McCain/Palin for things like the Wikipedia edits as election day nears.