Yodit, a 50-year-old widow, lives in Addis Ababa, Ethiopia, at the foot of Entoto, the capital's highest mountain. She is HIV positive and has cervical cancer. She had extreme pain that left her bed-bound and unable to care for her children. She also had other distressing symptoms and was very worried about her financial situation.
Yodit and her children live in a single room. Forced to give up her vegetable selling business as her health deteriorated, she could not find money for rent or food. After, her children stopped attending school as she could not pay their fees.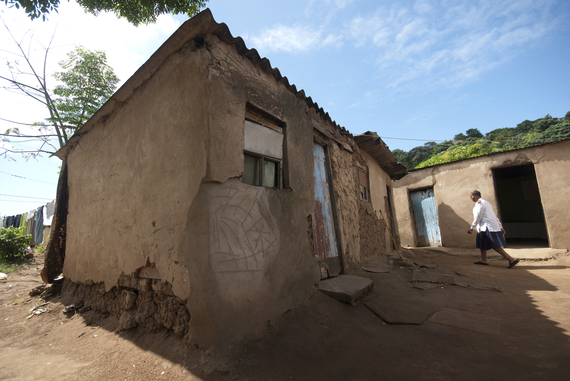 A hospice nurse visits a patient at home.
(Image: Hospice Palliative Care Association of South Africa)
Yodit is not alone. Millions of people around the world are forced into poverty while living with non-communicable diseases such as cancer, or other serious health conditions. Paying for costly treatment, loss of income, or travel for treatment and care, all contribute to this downward spiral.
Universal Health Coverage (UHC) is a target of the Global Goal for Health. All people should have access to good quality, comprehensive health services without being exposed to financial hardship. Universal Health Coverage Day, celebrated annually on December 12th, calls for greater action and progress on delivering UHC.
Hospice and palliative care services are an important part of UHC, aiming to relieve suffering and to improve quality of life for adults and children affected by life-threatening and life-limiting illness.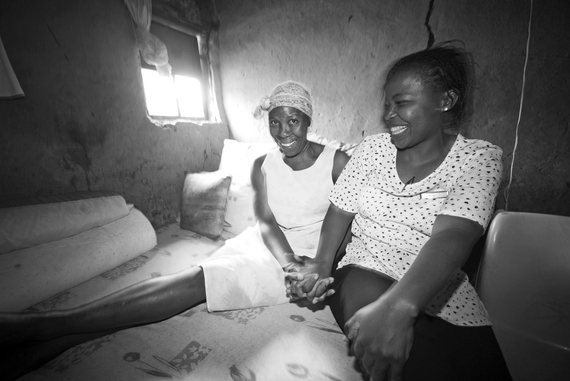 A patient and hospice nurse laugh together during a palliative care consultation.
(Image: Hospice Palliative Care Association of South Africa)
Hospice and palliative care is provided differently in different countries around the world, depending on how the healthcare system is structured, and working within legal barriers such as laws restricting access to strong opioid pain medications like morphine. Even in the U.S., reimbursement factors affect access to end-of-life care services.
The Worldwide Hospice Palliative Care Alliance (WHPCA), along with the International Association for Hospice and Palliative Care, and the International Children's Palliative Care Network, published a report ahead of UHC day describing how the Global Goal for Health can help improve palliative care for people with life-threatening and life-limiting illnesses globally, and calling on civil society, governments, and UN agencies to insist that palliative care be prioritized as part of the new Global Goals.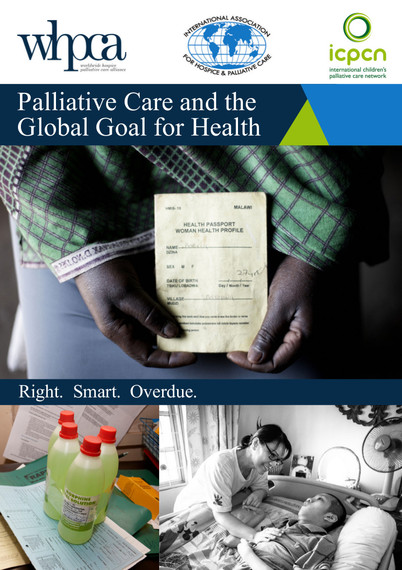 Report on Palliative Care and the Global Goal for Health.
(Image: Worldwide Hospice Palliative Care Alliance)
Sharon Baxter, Advocacy Chair at WHPCA, said, "Palliative care is a key part of Universal Health Coverage and people should be able to access hospice and palliative care services of sufficient quality to be effective, without being pushed into poverty. Governments must create an environment that welcomes citizen advocacy for hospice and palliative care, and people must demand a voice in the local, national, and global discussions and empower themselves to work towards equitable access to palliative care as part of the Global Goal for Health."
The World Health Assembly resolution: Strengthening of Palliative Care as a Component of Comprehensive Care Throughout the Lifecourse sets out the responsibilities of the World Health Organization and Member States to strengthen palliative care as part of national health systems so that everyone who needs these services will be able to access them.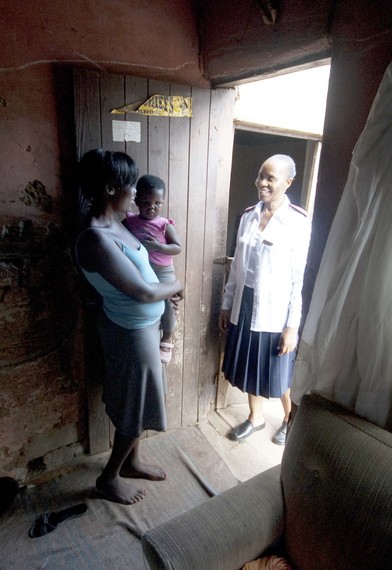 A young family greet a hospice nurse.
(Image: Hospice Palliative Care Association of South Africa)
In Yodit's home country, a hospice service did indeed provide that care, and she was able to get the medications she needed. After a thorough assessment, the hospice gave her morphine syrup for her pain and medication for her other symptoms. She was supported financially through Hospice Ethiopia's Comfort Food Programme, and it staff encouraged community members to visit and help her.
After a month, Yodit's pain was under control and she was able to tend to her children. She returned to selling vegetables to support herself and her family, something she would not have been able to do, had she not been referred to Hospice Ethiopia.
('Yodit' is not the mother's real name, that was changed to protect her privacy)
Related
Popular in the Community