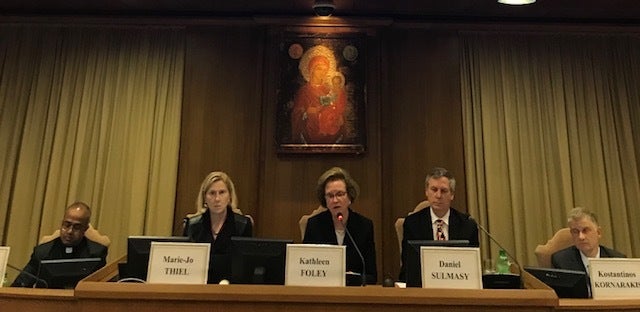 Palliative care got some serious airtime last week when Dr. Kathleen Foley, a new member of the Academia Pro Vita (APV), delivered an address entitled "Accompanying Life in the Passage of Death" at a recent workshop "Accompanying Life: New Responsibilities in the Technological Era," taking place during the 23rd General Assembly of Members. Dr. Foley highlighted the global need and acute suffering for patients and caregivers given the fact that strong medicines are unavailable for pain control in more than 80% of the world. Other palliative care Academy members present were Dr. Carlos Centeno, director of the Atlantes project at the University of Navarra, and Dr. Daniel Sulmasy, a Georgetown bioethicist who has written and lectured extensively about end of life care.
The palliative care contingent was complemented by the presence of Ms. Sylvia Lefebre and Ms. Giovana Abbiati, from the Rome based Maruzza Foundation, which has has overseen the production of two key World Religions Charters on palliative care for children and older persons. High level representatives of all religions ratified these two charters following extensive expert consultations about law, human rights, ethics, and spirituality.
Palliative care is still a relatively new concept for most people in the world, and the diverse mix of priests, nuns, ethicists, theologians, academics, and lay people attending the conference were no exception. Since the values and ethics of the Academy are explicitly aligned with palliative care's pro-life, respect for dignity, and personhood principles, Dr. Foley's words fell on fertile ground and gained support for palliative care beyond the biomedical field. As Catholic hospitals, clinics, and teaching institutions constitute more than 26% of the world's providers of services, palliative care development is fast becoming an urgent healthcare, as well as a spiritual, imperative for Church governance.
Indeed, the new Pal-Life project convened by Archbishop Paglia, will hold its first public conference in late February 2018 to showcase the work of its global, trans-cultural, trans-faith group of experts.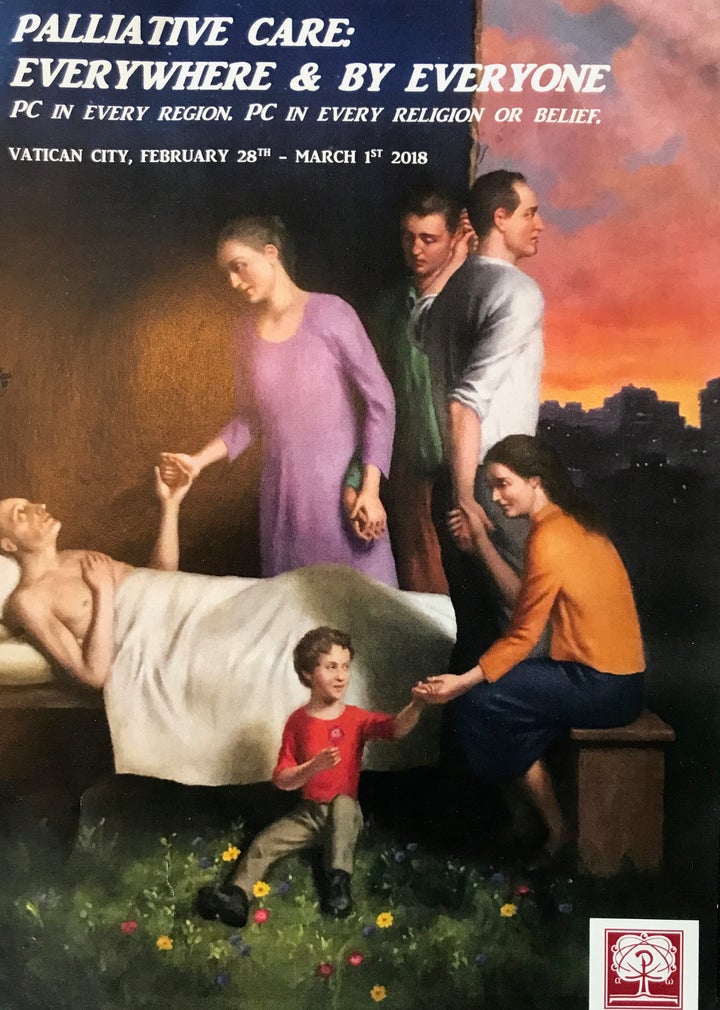 The firstfruits of the Pal-Life project have already appeared in India, in the form of the CHAI-Kochi Declaration memorialising an agreement between Pallium India and the Catholic Health Association of India. According to Dr. Nunziatta Comoretto, Bioethicist at the APV "All Catholic Healthcare facilities in the world are committed to ensure that end of life care patients get palliative care."
Palliative Care for All Religions
Although palliative care is deeply compatible with Christian spirituality and ethics, and the modern hospice movement was founded in the UK by a faithful and practicing Protestant, Dr. Ciceley Saunders, Christianity claims no monopoly on religious spirituality and ethics in end of life care. Saunders titled one of her key books Watch with Me, alluding to Jesus' request to his disciples during the final night before his Passion. This invitation to accompany the sufferer into the mystery of bodily dying, highlights the universal nature of palliative care, which is distinctive because it accepts eventual death from serious illness, and the bereavement that follows, as a natural part of life. Death is neither to be courted or needlessly thwarted through over-treatment, or Pope Benedict once put it, "therapeutic obstinacy."
The Catechism of the Catholic Church and a developed body of Catholic texts have long recognised the importance, and indeed the obligation, of healthcare providers to offer palliative care and pain relief. In its commitment to alleviate suffering, palliative care takes for granted the intrinsic dignity of each and every human being, no matter how stigmatised or marginalised by mainstream society. Dignity as the premise for policies that promote the common good, has always been central to Catholic social teaching. Integrating palliative care into church healthcare policy, however, is a timely and welcome development.
That said, the APV explicitly recognises that the virtues inherent in palliative care are not exclusively Christian, and that it is urgent to develop a body of work that reflects and accurately articulates the spirituality and ethics of diverse cultures in the face of life-limiting illness. Commenting on Dr. Foley's global presentation, Fr. Tomi Thomas, former Director General of The Catholic Health Association of India, emphasised the ever increasing numbers of migrants and refugees of many faiths who are dying away from home desperate for the solace provided by spiritual practitioners of their own faith. As he correctly pointed out, the majority of these practitioners are unschooled in the process of accompanying the dying, which has its own unique challenges.
Modern society is relentlessly, richly, multi-cultural, and the need for palliative care is global. According to the World Health Organisation, roughly 80% of that need is currently unmet. It is imperative that all religions retrieve and articulate their spiritualities on death, dying and support for caregivers, so that people can receive the appropriate clinical, psycho-social, and spiritual support during what is often the darkest and most challenging period of their lives. Pope Francis describes palliative care as "an expression of the truly human attitude of taking care of one another, especially of those who suffer. It is a testimony that the human person is always precious, even if marked by illness and old age."
Indeed. The Academia Pro Vita is spreading that good news.
Related
Popular in the Community