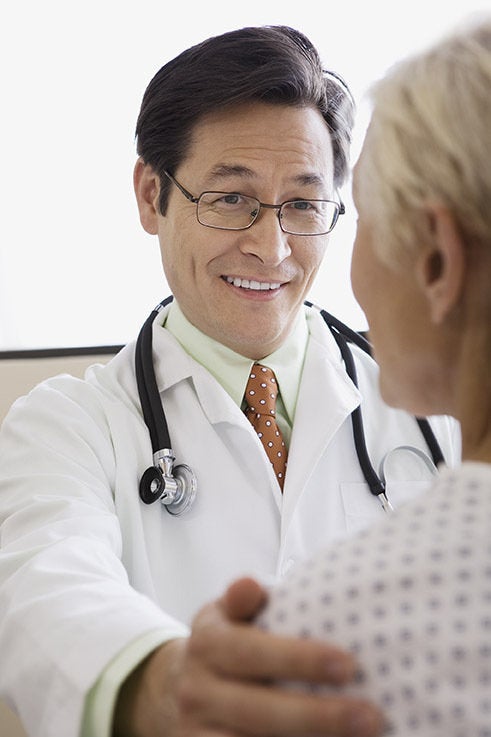 Palliative care has a branding issue.
Many people, doctors included, are ill-informed about this essential branch of medicine. As a result, it's rarely discussed, undervalued and underused.
The purpose of palliative care is to make patients feel better -- by managing pain, emphasizing nutrition and providing assistance in daily life. The goal is not, necessarily, to cure disease, but instead to help people cope with any chronic medical disorder.
I think that palliative care matters now more than ever. That's because medical advances have expanded patients' care choices to such a point that health care decisions can overwhelm individuals caught up in the immediacy of an illness. In a specialist-driven system that aims to eradicate disease, sometimes we overlook the simpler need to alleviate patients' discomfort and distress.
Physicians need be educated about palliative care, so they might prescribe it and better discuss the potential benefits with their patients. The public should be informed, too.
A common misconception equates it with hospice care or end-of-life care. While palliative care sometimes overlaps with those, it's not the same. Rather, it's an approach to medicine that comforts people in ways that antibiotics, chemotherapies and most procedures don't - at least not directly. Few realize that palliative care can supplement other, potentially life-saving treatments during any phase of illness.
"It's not just for cancer" explains Dr. Ann Berger, an oncologist and chief of the Palliative Care program at the National Institutes of Health Clinical Center in Bethesda. She emphasizes that her team assists patients in any phase of chronic disease such as sickle cell anemia or diabetes.
But few people bring up the subject. Palliative care is too-often considered a last resort, for those who lack hope.
Palliative care lets patients take charge of a serious illness, says Dr. Diane Meier, Professor of Geriatrics and Palliative Medicine at the Mount Sinai Medical Center in New York City. There's widespread misunderstanding, she considers. "Palliative care is not end-of-life care. It is about making sure that medical care is matched to patient goals and values."
One problem is that few doctors are knowledgeable about palliative care. But the medical school and residency curriculum is slowly changing for the better, Meier says.
Post-graduate education for doctors is gaining traction. In 2006 the American Board of Medical Specialties established palliative care as an official sub-specialty in the field of Internal Medicine. After completing a residency program, doctors can take on additional training through fellowships in palliative care. Since 2008, the board offers certification exams for doctors who've completed these programs.
Apart from a hospice setting, palliative care can improve the quality of patients' lives, Meier explains: first, by providing expert treatment of distressing symptoms such as pain and fatigue; second, by promoting regular and open communication among patients, family members and the health care team; and third, by making sure patients and caregivers have the knowledge, training, and community support required to manage the illness at home.
A priority is that patients "understand their illness, what options they have, and the pros and cons of these options - all the information necessary for patients to choose treatment that meets their goals," Meier says. "It puts the knowledge and power back in the hands of the patient and family, where it belongs."
As I see it, palliative care is a vital component of the modern medical armamentarium. Patients and their physicians shouldn't shun palliative care until the last days of life. Rather, we should embrace this approach early on, so that we can receive its benefits through the typically long course of living with heart disease, arthritis and other chronic conditions.
Perhaps this positive brand of medicine just needs a new name.