Palm oil: useful and ubiquitous, it also happens to be one of the most destructive ingredients on the planet.
Even more, these alleged violations may be occurring in the production of "sustainable" palm oil -- a product supposedly certified as transparent, ethical and environmentally sound, and produced by employees who are "responsibly considered."
"Unfortunately, these results were not shocking to find because they represent the tip of the iceberg of widespread and systemic exploitation and labor rights abuses taking place throughout the Indonesian and Malaysian palm oil sector," Robin Averbeck, senior palm oil campaigner for the Rainforest Action Network, told The Huffington Post in an email this week.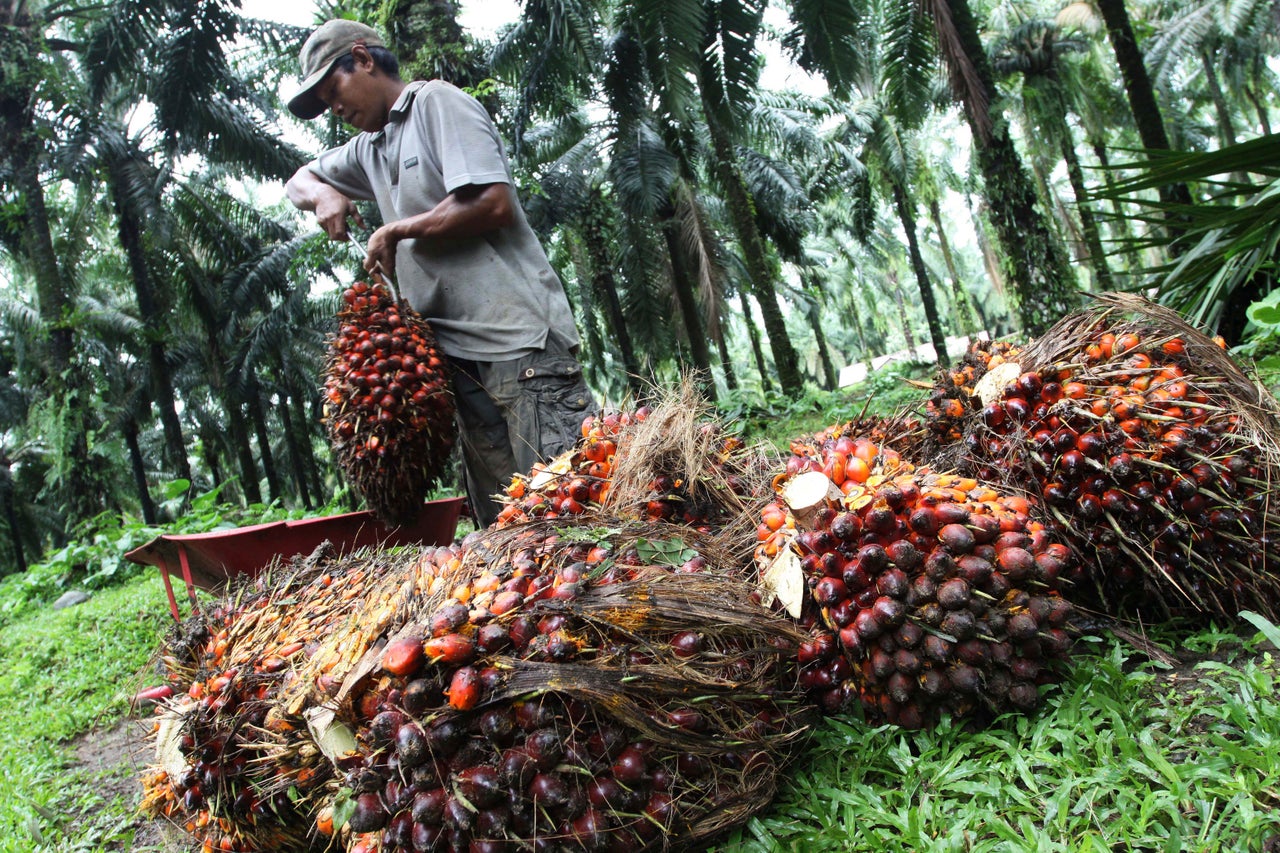 In September and October, an international team of researchers from RAN, the Indonesian labor organization OPPUK and the human rights advocacy group International Labor Rights Forum conducted an on-the-ground investigation into the conditions of workers on two palm oil plantations in Sumatra, Indonesia.
Indonesia is the world's largest producer of palm oil, responsible for more than half of the global supply. Malaysia is the second-largest producer, with about one-third of the pie.
The two plantations the researchers visited -- both of which are certified by the Roundtable on Sustainable Palm Oil -- are owned by Indofood, Indonesia's largest food company and a joint venture partner of food giant PepsiCo. Indofood produces all of PepsiCo's products from Indonesia, including popular snack brands like Lay's and Cheetos.
Mark Wakeford, Indofood's CEO, told National Geographic this week that the company complies "with all Indonesian law and regulations regarding our workers." Wakeford added that the company had requested RAN to provide "evidence to substantiate their claims, so that we can investigate," but said the group had "not provided us with any further facts or evidence, other than a draft report with unsubstantiated allegations, hence we are unable to follow up on their specific allegations."
Both Indofood and PepsiCo did not immediately respond to our requests for comment.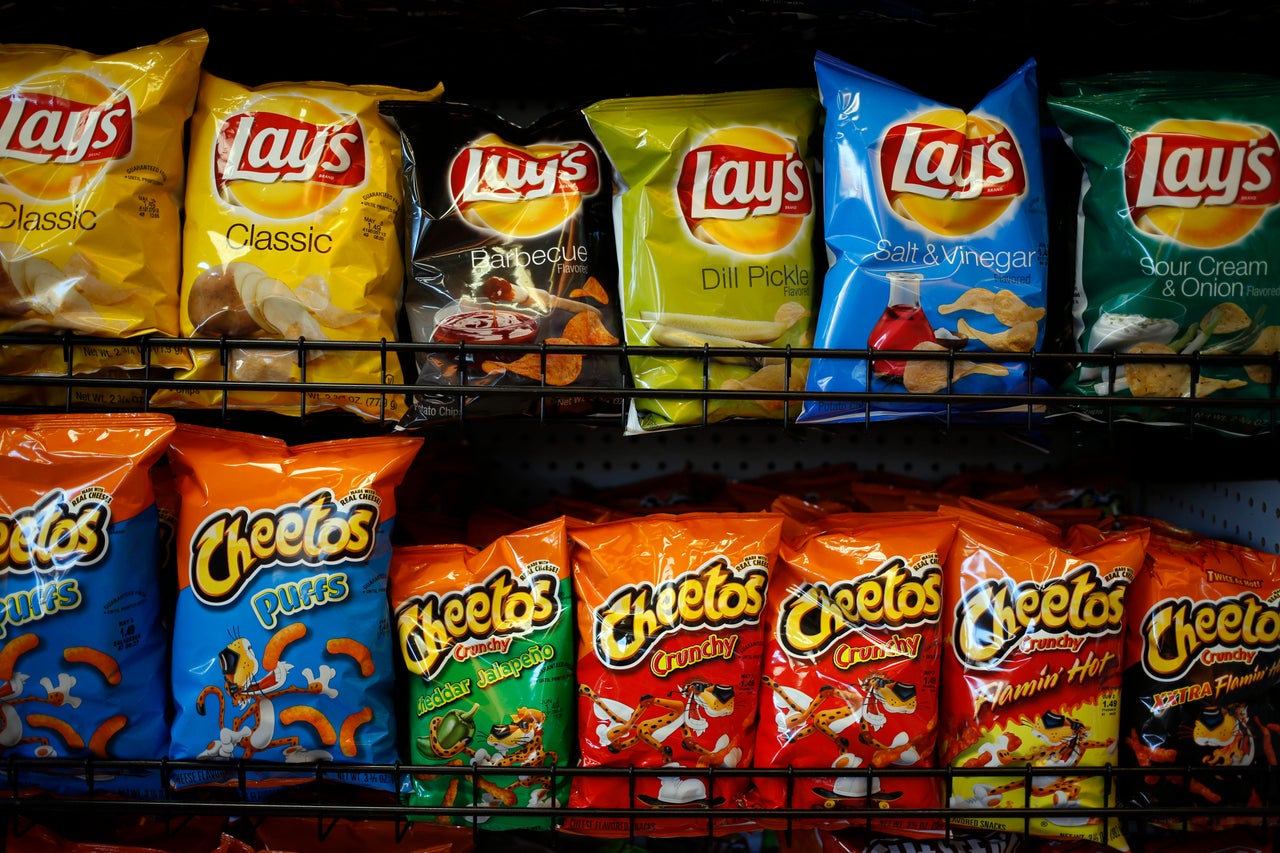 Here are some of the key findings from the report:
Indofood allegedly relies heavily on casual and other precarious forms of labor on its plantations.
Of the 41 workers interviewed, 20 were employed as either casual workers, limited-duration contract workers or so-called "kernet" workers, informal workers who have no direct employment relationship with the company.
"These [casual and kernet] workers had no job security, earned as little as half or less the pay than permanent workers, sometimes paid for their own safety equipment and health care, and faced increased health and safety risks," the report said.
Indofood allegedly sets unrealistically high daily quotas for its employees, forcing them to enlist the help of these informal kernet workers.
According to the report, plantation workers often engage the help of kernet workers in order to meet their quotas. These kernet workers are allegedly often children or employees' wives.
One of the kernet workers interviewed for the report was a 13-year-old boy. He said he'd stopped attending school so he could earn some money on the plantation.
At least three harvesters told researchers that their daily quota was 2 or more tons of fresh fruit bunches per day. "To achieve their quota, harvesters must often walk long distances, particularly during the low-yield season, to cut and collect the necessary amount of fruit bunches," the report said. One harvester said he had to collect between 140 and 160 fruit bunches per day, each weighing between 30 and 45 pounds.
Indofood is also accused in the report of keeping its workers at "unethically low wages," paying both permanent and casual workers below the district's minimum wage.
Casual and kernet workers reported regularly making between 20 percent and 75 percent less than the district monthly minimum wage.
One harvester said he paid a 16-year-old kernet worker just $1.50 a day plus food and cigarettes. (The district minimum wage is $6.10 per day.)
"What kind of adult person would want to get paid that much? [But] that's how much I can afford," the harvester is quoted as saying.
Though no evidence was found of Indofood directly hiring child laborers, at least three children under the age of 17 were allegedly found working as kernet workers.
A fourth boy, a 19-year-old kernet worker, said he'd been working at the plantation since he was 12. Several harvesters also said they'd hired children to help them on the job.
According to the International Labour Organization, working in agriculture is one of the "worst forms of child labor," as it exposes children to extreme hazards, such as dangerous tools and harmful pesticides.
Workers on the plantations were exposed to hazardous chemicals, including paraquat, a toxic herbicide banned in many Western countries.
The report alleges workers were often not provided with adequate health care and safety equipment despite this exposure.
Casual and kernet workers reported having no health insurance and limited access to the on-site company clinic. The company allegedly did not provide any protective gear to kernet workers.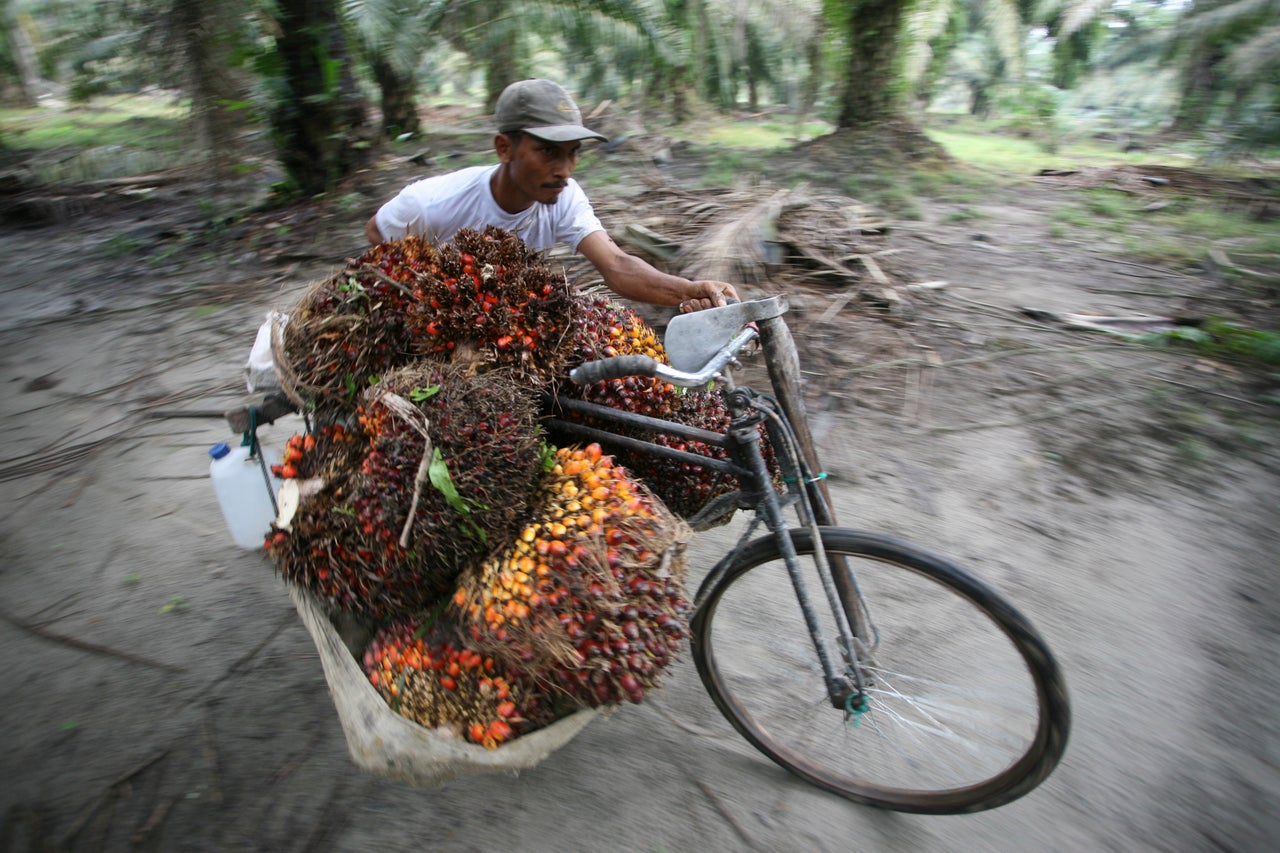 According to National Geographic, this report is one of the first to be published in English that details, firsthand, the working conditions of Indonesian palm oil plantations.
Illegal and problematic practices on palm oil plantations have been highlighted in the past. In 2015, for instance, news reports revealed human rights and worker rights violations on palm oil plantations in both Indonesia and Malaysia. The year before, a report by the Environmental Investigation Agency called "Permitting Crime" said an estimated 80 percent of palm oil cultivation areas in Indonesia were guilty of illegal practices.
"Generally speaking, the level of legal compliance within the sector is critically low, and law enforcement is very weak due to entrenched corruption," Tomasz Johnson, forest campaigner at the EIA, told HuffPost last year. "For consumers, this means it's very likely that the palm oil they consume on a daily basis has been produced illegally. It almost certainly hasn't been produced sustainably, in any meaningful sense of the word."
Despite the myriad challenges facing the palm oil industry, RAN's Averbeck, who worked on the recent report, said consumers and corporations can make a huge impact in reducing the production and consumption of so-called conflict palm oil.
PepsiCo, in turn, "must take bold action" in addressing these allegations, said Eric Gottwald, legal and policy director at International Labor Rights Forum.
"Any serious responsible palm oil commitment must include Indonesia, the world's largest palm oil producer and the country most greatly impacted by rainforest destruction and human rights abuses caused by palm oil plantation expansion. In light of the egregious conditions on Indofood plantations detailed in the recent report, PepsiCo must do better," he said in a press release.
PepsiCo is said to be the largest globally distributed snack food company in the world. Its annual net revenue surpassed $60 billion last year.
Related
Popular in the Community