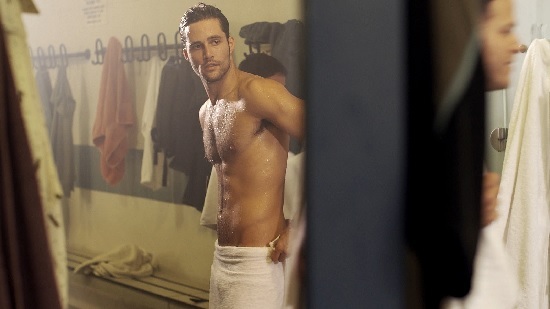 Among the films screening at Cinema Diverse is Snails in the Rain, an intelligent and emotional Israeli film set in 1989 Tel Aviv, Boaz (incredibly sexy male model Yoav Reuveni) is a linguistics student committed to his girlfriend, Noa. But soon Boaz begins receiving a series of love letters from another man. They expose the inner world of their author, who is deeply closeted, but knows plenty about Boaz, including his past attraction to other men.
The Palm Springs Cinema Diverse film festival seems to be shaping up to be the Academy Awards of Gay Movies. The Sept. 18-21 event is bringing together almost every GLBT movie I've seen (and loved) at other festivals - and a handful of new ones to check out. It's amazing that all of this great content can be seen in just three days. It's a filmgoers' heaven!

The director and cast members of one film dropped by the Nicholas Snow Live studios for a candid interview. The Dark Place is among the 28 feature films and more than 30 short films screening.

Long estranged from his widowed mother, Keegan Dark has the uncanny ability to remember his life in videographic detail - an ironic curse as it makes him unable to forget any of his life's numerous tragedies, including the deaths of his father and brother. He returns home, boyfriend in tow, to his family's vineyard estate to make amends with his mother, only to discover that she has remarried. His family now includes a step-father and step-brother -- and Keegan quickly surmises they aren't up to any good. But his investigation into their past gets derailed when his mother drops into a coma, his boyfriend leaves him, and the town's sheriff targets him as the culprit. With time running out, Keegan struggles to unravel the secrets that threaten to destroy him and everyone he loves.
The Dark Place Official Trailer:
In an earlier episode of my show, I announced other news of the festival:
Cinema Diverse: The Palm Springs Gay & Lesbian Film Festival, takes place at the Camelot Theatres. For the complete lineup, click here.
Join the new Nicholas Snow Live Facebook group here.
Popular in the Community