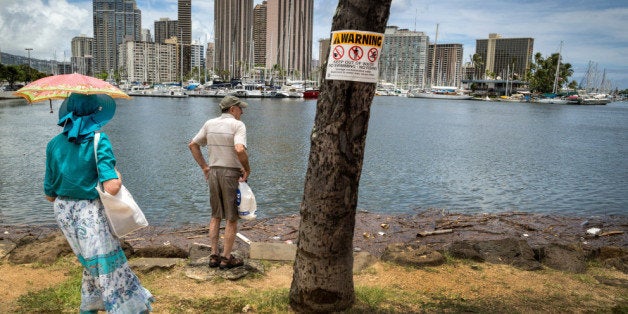 Honolulu's Environmental Services Director Lori Kahikina made it official Tuesday: "The only thing that should be going into the sewers is number 1 and number 2."
Definitely no tricycles or boulders, which is what somebody stuffed into a manhole in Oahu's Palolo Valley sometime last week -- an act officials classified as "malicious" vandalism. It resulted in more than 103,000 gallons of sewage overflowing into Palolo Stream, which eventually leads into Waikiki's Ala Wai Canal and out into the ocean and popular surf breaks.
Normally, the stream is like "a water park" to kids, Palolo resident Vaca Toetuu told Honolulu's KITV. "But I don't think any of the kids want to jump in anymore."
Officials fastened about 70 signs to fences and palm trees warning people to stay out of the water at Palolo Stream, the Ala Wai Canal, Magic Island near Ala Moana beach, and popular surf breaks such as Ala Moana Bowls and Kaisers.
Apparently, this happens in other places around the island, according to Okubo. "A lot of people don't realize what goes on," he told the Honolulu Star-Advertiser. "It happens several times a year and in some areas of the island more frequently. This is obviously malicious. The vandalism is costing us taxpayers' money that can be used to address other meaningful work projects."
Storm runoff is expected after heavy rains, such as those that happened after the remnants of Tropical Storm Wali passed through over the weekend. But, mixed with an overpopulation of feral pigs in the valley, Palolo resident Bernard Kilonsky told the Star-Advertiser there is now a nearly constant state of brown-water runoff when it rains.
All this turbid water doesn't normally have much of an impact on marine life, Okubo told HuffPost, but "we'll probably have an algae bloom, and the water might change color, which is a natural succession of events."
He awaits the numbers on bacteria levels, and said that "as long as the sun is up, it kills of a lot of bacteria." Trades winds, he added, help recovery too, by mixing oxygen into the water.
Marcus Owens, spokesman for the city's Department of Environmental Services, told HuffPost "thousands of dollars of man hours" were put in "for something that should never have happened."
It's nowhere near as bad as the 2006 incident, when 48 million gallons of untreated sewage flooded Waikiki streets and then-Mayor Mufi Hanneman ordered crews to pump the mess into the Ala Wai, an accident earning the canal the dishonorable label of "Hawaii's Biggest Mistake."
Currently, there is no investigation underway to find a suspect for this weekend's crime. But whoever did it, Kilonsky wishes they would have just kept their shit to themselves. "Why would they do that?" he asked. "People do all kinds of dumb things for reasons I can't understand."
Related