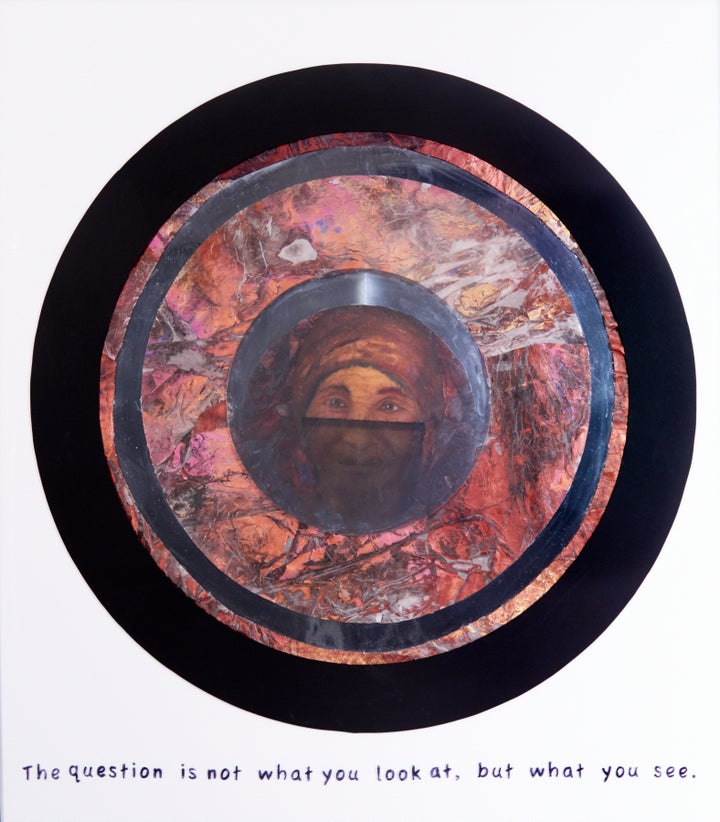 We don't see things as they are, we see them as we are. -- Anais Nin
Pam Douglas is steeped in the magical way assemblage creates meaning. But she also excels at using paint, light, and line to modify and repurpose her finds into thematic compositional elements of powerful abstract narratives. Motifs of landscape, stylized abstraction and portraiture, and elemental forces of earth, air, and fire are depicted and embodied using plexiglas, rope, machine parts, and newsprint, as well as rich colors and mirrored surfaces reflect the viewer, reminding us all that we are not actually separate. The works in "Sight" share process and material interests with her previous bodies of work, but for this series Douglas has chosen those elements with increased specificity, because her message is a direct response to society's current spate of seemingly intractable troubles, both political and environmental. As the Bible says, Who has eyes to see, let them see.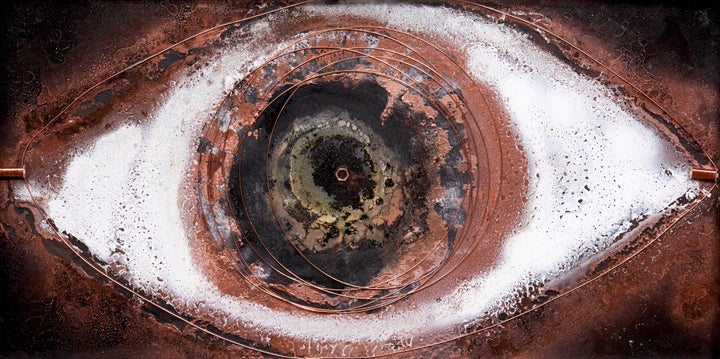 Feeling that art is suited to poeticize politics in furtherance of shared discourse, Douglas evokes ideas about perspective and perception, truth and spectacle, evidence and empathy. There's a line from Thoreau written beneath the image in The Question. It reads, "The question is not what you look at, but what you see." In a way that's the crux of the whole thing. Douglas encourages us to see ourselves as others see us. A moving portrait of a woman's emotional, time-weathered face gazes at us from behind a painted veil of abstract surface. In a Dark Time (the phrase finishes "the mind begins to see"), we see a crowd of refugees, facing the real world consequences of violence and resource scarcity. A godlike eye sits astride the horizon, but is it an explosion of doom, an aura of protection, or the glow of inner third-eye vision? In Sight, the title piece, a mirrored silver image occupies two transparent panels. The space between refracts light, creating a dynamic optical experience that amplifies the story of the imagery. A speed gauge embedded in the surface reads "caution" and in indeed, these works are cautionary tales.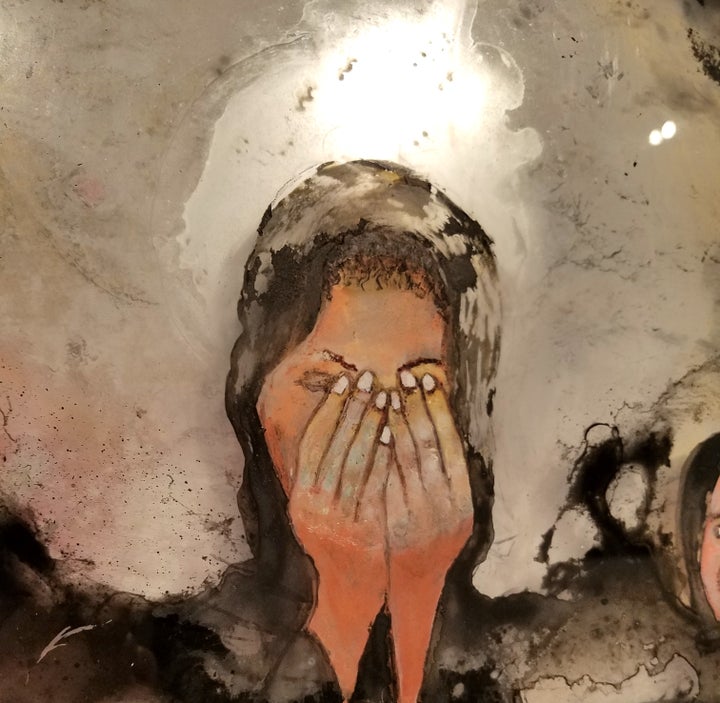 Among the most politically-charged, and pointedly narrative works, Witness builds a schematic, almost industrial eye with the teeth of a steel saw blade, encased in a shadow box like a paleolithic artifact. Its iris is an ink drawing of a woman; as with The Question, she is delicately rendered, in warm contrast to the sharp steel, and demanding attention with her direct, piercing gaze. Douglas' political advancements further develop in a pair of more straightforward landscape compositions, the epic vistas of Which Future Do You See and Forecast from the Deep. In the former, her inclusion of newspaper headlines buried under the landfill like holy bones or seeds of evil says, you reap what you have sown. In the latter she uses yarn to imagine a celestial Tree of Life, a world on a stem whose roots pierce the ground -- piercing the horizon dotted with the oil derricks on the dusky low ridge against an expanse of sky. Each has a unique hybrid quality of abstraction and allegory, and comment directly on the importance of perspective as well as the narrative potential of found materials.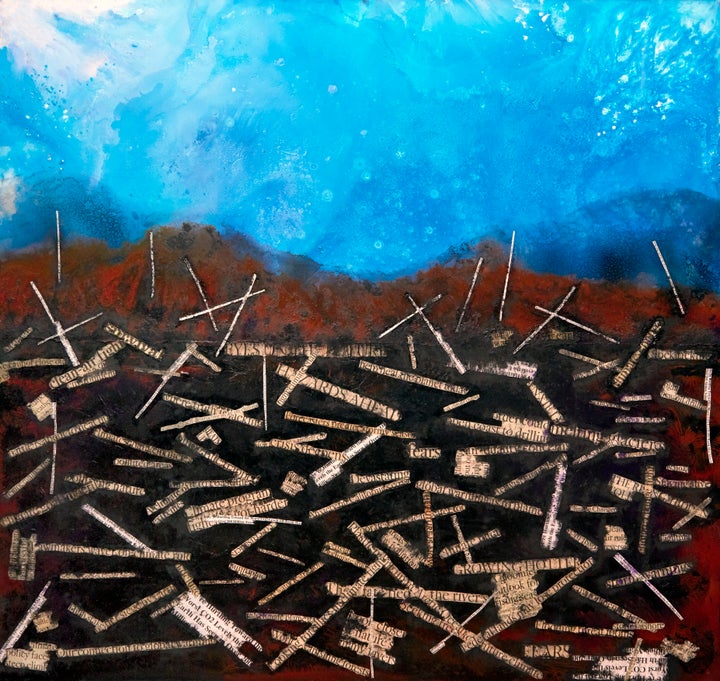 One of the most compelling aspects of the "Sight" series is the way the eye motif plays into interpretive ideas about conceptual mathematics, embracing golden ratios and the Fibonacci sequence, the folkoric and mystical significance of the circle, and the micro/macro universality of these fundamental, physical and metaphysical forms and experiences. Echo resembles a subterranean ice lake, a cavern to the core of a frozen planet, with a textured, geological black and radiant glacier blue. Wonder looks almost like a photograph of outer space, with a fractal pattern of crackle and the bruised palette of a nebula. Eye of the Storm, with its torrent of thick, nested fibers saturated in pigment, generates an image that is so evocative it's almost literal -- and in recent weeks, all too familiar. All these pieces further highlight the alchemical, synaesthesia quality of materiality in context.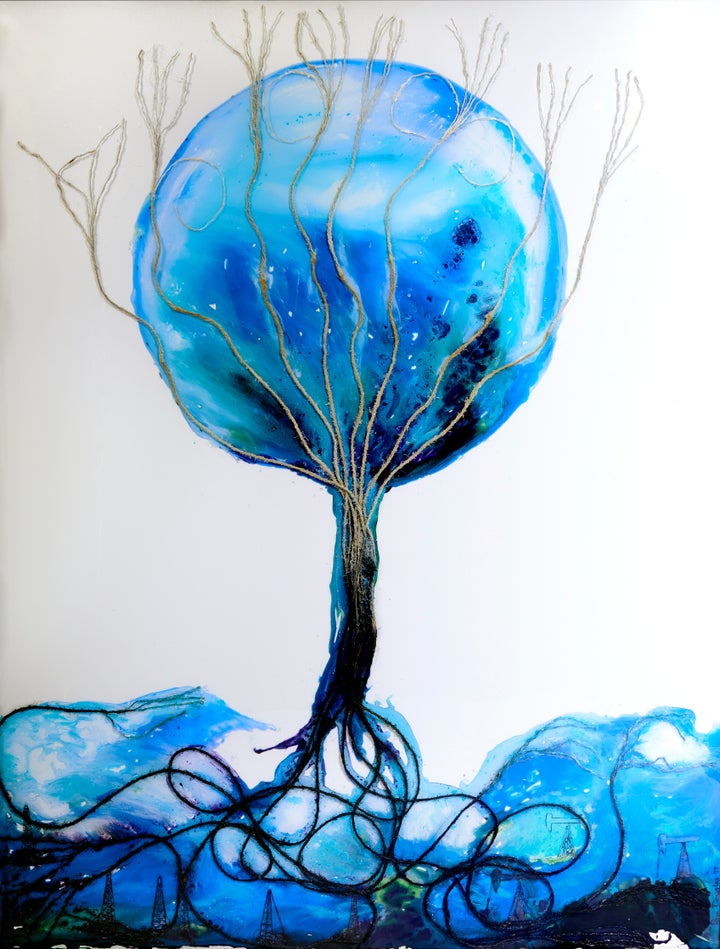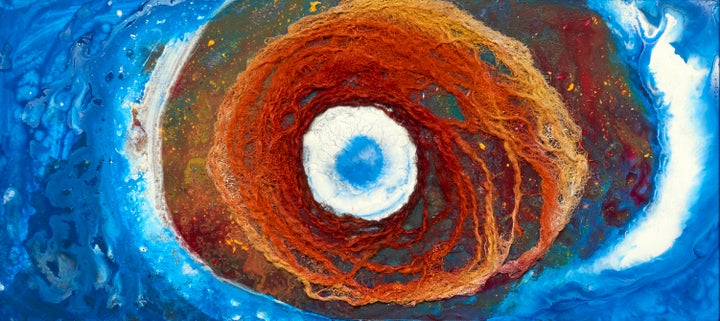 Douglas' purview includes art historical and philosophical facets as well. One has a tactile, metallic armature that evokes Fluxus works by Al Hansen and Duchamp's "The Bride Striped Bare…" but also has a quirky, retro-futurist sci-fi personality. Mechanism for Prophecy has a similarly Aztec-futurist aesthetic, in its use of coiled copper wire, mirroring, paint and mixed media. It evokes a kind of HG Wellesian time-travel, magic artifact. The closely related Instrument of Alternate Dimensions is also a plexi shadowbox, containing three layers with ink drawings of neurons, metal hands of clocks, a painted eyeball with metal wire. Below, a mirrored surface reflects all, creating real and imagined space, and asking questions about how the physical phenomenology of seeing affects how we experience our lives. As in all the work, Douglas is organizing external structural elements of composition to express the invisible armature that binds us all together -- like a series of models of the known and unknown universe, at human scale.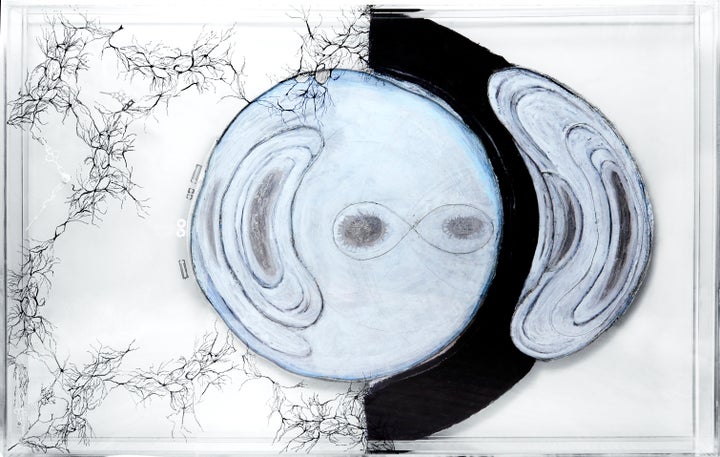 Opening reception September 30, 5-8pm; artist talk October 7.
Related
Popular in the Community